With spring break here, and summer travel plans on the way, here are travel tips for our Globe Aware families. Traveling with young children can be chaotic, so we hope these tips will help you on your way to your next volunteer vacation!
---
Family travel: Top tips for holidaying with young kids
By Anna Sarjeant
1 Mar, 2023
New Zealand Herald
Hoping to holiday with tots and toddlers? It won't be stress-free, but it could be stress-reduced with these handy travel hacks, writes Anna Sarjeant.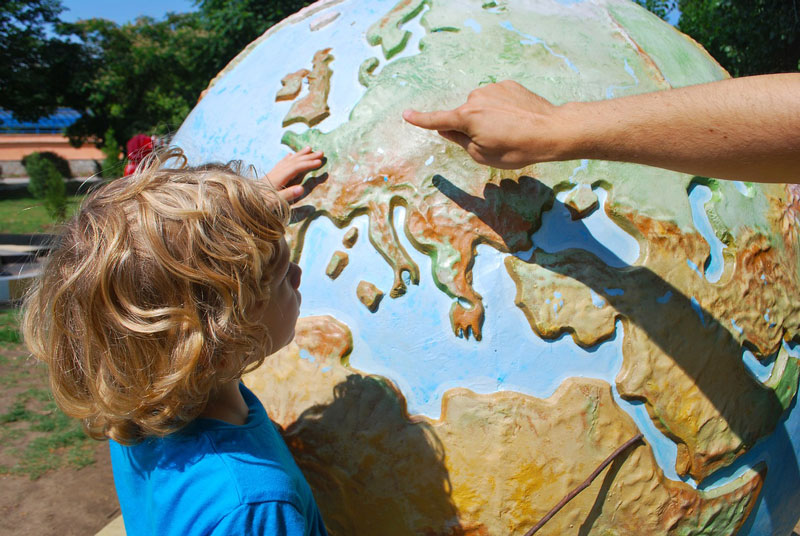 Pre-departure flight tips
You can request a bassinet on the plane. There's no guarantee you'll secure one, but once you've booked your flight(s), ring the airline directly to ask. Most airlines have an age restriction of two years, but some go on height or weight. Pro tip: If you request a bassinet, mention it at check-in as well.
Each airline varies but child fares generally have the same baggage allowance as an adult. If they're under 2 years of age and flying for free, it will be classed as an infant fare and likely include some carry-on allowance but no checked bag.
In addition to your normal luggage allowance (for example 23kg checked-in baggage with Air New Zealand), it's common to be able to take at least two of the following: stroller, car seat or bassinet. Pro tip: Unless you've paid for a seat for your child under 2 years, they'll be sitting on your lap. If you want to use a car seat in the cabin, you'll need to pay for a child fare.
Packing tips
You might need a car seat to get to and from the airport. If you're not taking one, most private or shared transfers including shuttles will have the option to add a baby capsule or car seat when you book.
For your carry-on, pack extra baby clothes for an ill-timed bowel movement as well as winter and summer options, because when it comes to air-con on a plane, you never know what temperature you're going to get.
Did you know iPhone has a built-in white noise machine? Simply go to settings – Audio/Visual – Background Sounds. Saves you from packing the bulkier white-noise machine.
In this day and age, everything needs charging. From our phones to wireless headphones, music speakers, iPads - and the list goes on. It's useful to pack a power board (or two) so you can charge multiple devices in one go.
Take a simple first-aid kit for minor grievances while you're away (and at times, major reassurance for parents), such as plasters, paracetamol and a thermometer. If you have a tiny tot, pack the trusty nasal aspirator, especially as seemingly mild sinus issues can flare up after a flight.
It's an easy one to forget but a small night light for kids who get discombobulated in new surroundings can make the sleeping transition at your accommodation a little easier.
If you have the weight and space capacity – and you're off to a hot country – consider taking a collapsible pet/kid pool. Toddlers and small babies will benefit from staying cool and you can pick it up and shift it as the sun (and shade) moves. Pro tip: Some baby beach tents come with a built-in basin.
At the airport
Tucker your wee ones out before boarding. In an ideal world (which doesn't actually exist now you're a parent), you'll have booked a flight around nap time. Then, you'll have 1-3 hours to exhaust the tykes before take-off. Pro-tip: Have baby sanitising wipes to hand; airports are riddled with germs, as we all well know.
Gate check your stroller. Simply mention it at check-in and you'll receive a special tag. You can use the stroller right up until boarding and then leave it at the plane door: baggage handlers will collect it from there. Upon landing, it'll be waiting for you at baggage claim or even better, just after disembarking. Pro tip: Pack a mini puncture repair kit just in case the worst happens.
Take a baby carrier in your carry-on, just in case you go to Sydney but your baby's stroller goes to Miami for Spring Break.
On the plane
We've all winced at a wailing baby on a plane (or god forbid, multiple wailing babies), but potentially their little ears are a red hot, screaming mess. Especially on take-off and landing. Depending on their age and your current set-up, hook them up to a nipple, bottle or sippy cup (lollies if they're old enough) to combat changing air pressure on tiny ear drums.
Give your kids extra fluids while in the air. Flying is dehydrating and if the family arrives thirsty, you'll be on the back foot trying to avoid dehydration from the off. Not fun.
Toys, snacks, stickers and more snacks... heck, pack the always-fascinating TV remote if it'll keep little minds occupied. Instagram parents swear by "window clings", reusable window stickers that – much to the joy of your airline – don't leave a residue. Also good for car journeys.
Finally, don't underestimate the power of repetition. Pack a snaplock bag of craft shop pompoms and ask the flight attendant for an empty water cup. Pompoms in, pompoms out – hours of fun. Or at least 5 minutes.