Your Journey Through Africa!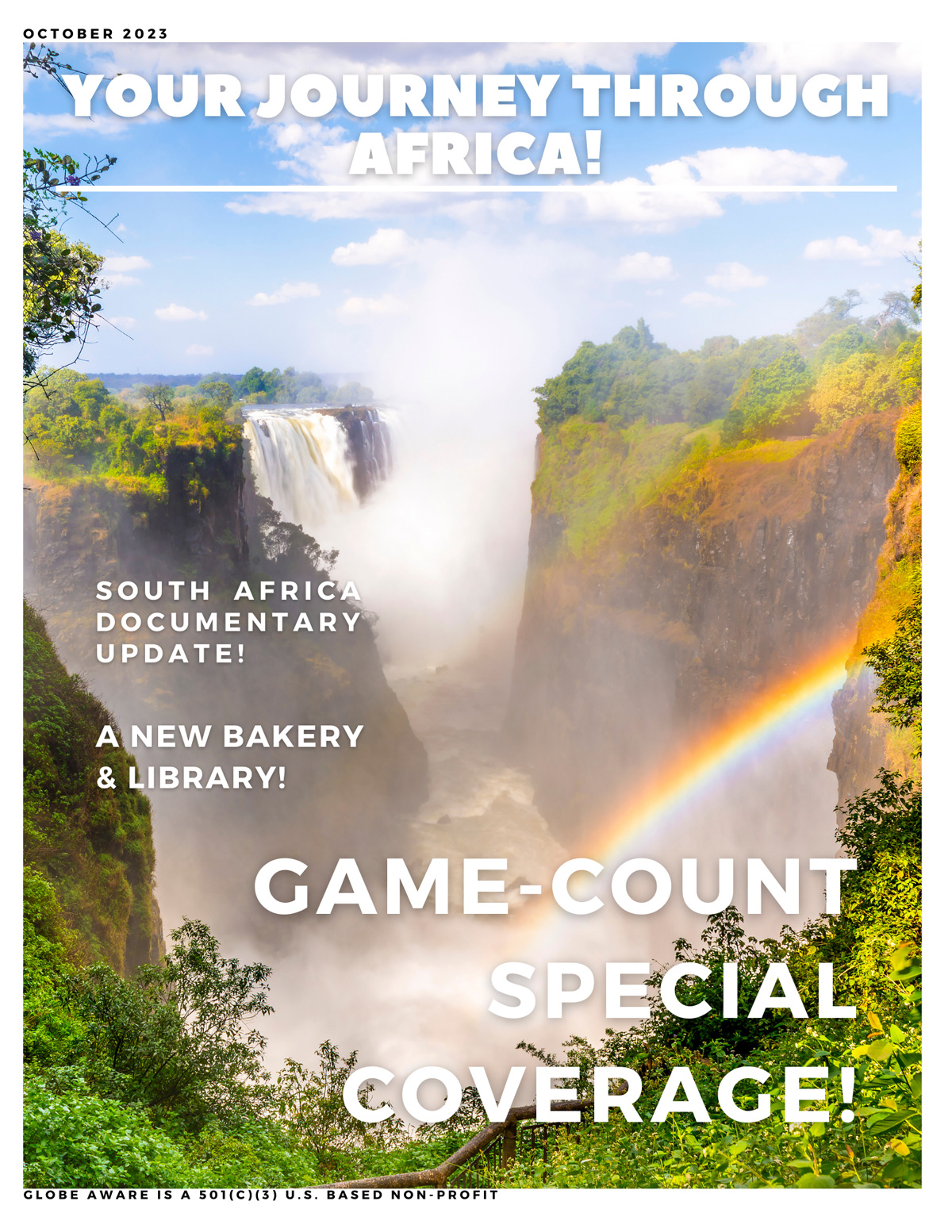 The Game-Count Special in Zimbabwe!
Our volunteers have just completed some EXTRAORDINARY volunteer work at the Hwange National Park, in Zimbabwe, Africa!
From Sept 27th to Oct. 1st, they were up close and personal with magnificent African wildlife. This once-a-year experience is a cost-effective, short, and significant volunteer vacation that leaves a lasting impact.
Our Game-Count Special was not for the faint of heart! Our group of volunteers, working alongside a variety of Zimbabwean organizations, completed an annual game count that brings crucial information to researchers working on the conservation of endangered wildlife. The work included 24 continuous hours of counting and recording all mammals, their gender, and behaviors, amongst other things, from an assigned watering source. Our volunteers saw lions, elephants, hippos, giraffes, ostriches, mongooses, sables, all kinds of waterbucks, impalas, and many more.
The count takes place during the driest part of the season under a full moon, to facilitate round-the-clock counting. Some also enjoyed an evening cruise on the Zambezi River, a helicopter ride over the magnificent Victoria Falls, one of the natural seven wonders of the world, and a dip in the Devil's Pool!
Future volunteers don't need to possess wildlife expertise to join in. However, a passion for adventure and a readiness to acquire new knowledge are essential qualities!
Email us at office@globeaware.com to learn more about the Game-Count Special
The Game-Count Special in Zimbabwe Cont.!
You can explore videos straight from the project site by visiting our YouTube playlist, by clicking on the link provided below!
It's important to mention that the training and preparation required for this mission are much more extensive compared to a typical service trip. This training equips participants with the knowledge to distinguish between various species like waterbucks, bushbucks, males, females, and more. However, for those with a sense of adventure, a commitment to service, and a love for animals, the experience is incredibly rewarding!
A total of 310 individuals, nearly all from Zimbabwe, took part in the count, stationed at designated water sources spread across the 50-square-mile open park. The dangers are real, but so is the sense of joy and fulfillment. Additionally, there are plenty of high-adventure opportunities for those who have extra time before or after their service commitment.
Although our Game-Count Special is only once a year, we offer a regular Zimbabwe program all year round.
Learn More About Globe Aware's Regular Zimbabwe Program
Watch Globe Aware's Zimbabwe Program Playlist Here

A New Library in Zimbabwe and a Bakery in Kenya!
We extend our heartfelt gratitude to everyone who generously donated multiple large, weighty suitcases filled with children's books, which were delivered to a group of children to kickstart a library in Zimbabwe. The kids are filled with enthusiasm about having such a vast collection of books for their reading and study purposes.
A special shout-out goes to Holly Schymik, Brenda Gayle, and the wonderful individuals at Garland Eye in Texas for their outstanding contributions!
There's Going To Be A Bakery!
Due to the dedication and kindness of our volunteers, donations have been channeled by our Kenya team to establish a bakery for the local community! Check out a short video featuring Coordinator Pius, showcasing the bakery tools and construction process! We look forward to sharing more updates soon.
If you plan to contribute donations to support beneficiaries in your future Globe Aware program, please inform us in advance, as each location may have specific needs that are not readily accessible to them.

South Africa Documentary Update
We are delighted to bring you an exciting update!
As you may remember, Globe Aware played a crucial role in an international documentary that shone a spotlight on our corporate volunteers' remarkable efforts in building a soccer pitch and restoring homes in the Imizu Yetu township.
The documentary has now garnered two awards in Venezuela and has received nominations for Best Documentary in both Paris and London!
$4,500 has also been raised in support of the protagonist, Dede, to assist her in securing a new home!
We've included screenshots from the documentary, and recommend you give watch the whole documentary once it's available in your area, "Ubuntu."