DISCOVER DISTANT LANDS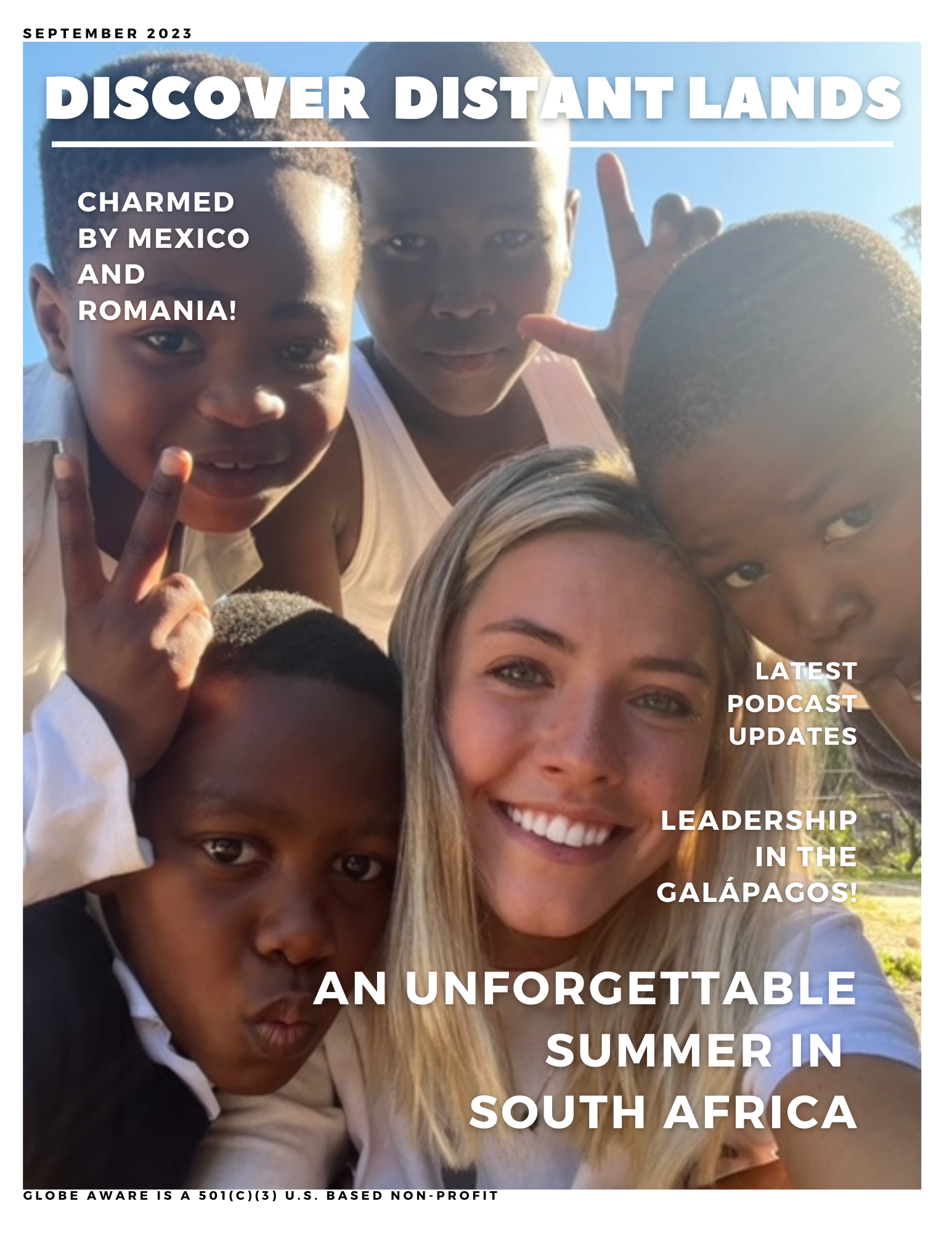 An Unforgettable Summer in South Africa
Ally, Dana, and Grace enjoyed a memorable week in beautiful South Africa. What activities and volunteer work did this trio partake in during their volunteer vacation week?
Throughout their stay, they volunteered daily at a primary school located in a township. They added artwork to the building, brightening up the lives of the pupils, and tutored students in subjects like math. They also explored a penguin colony, ventured into the picturesque Hout Bay, provided assistance to Coordinator Nandipha's social awareness campaign, and embarked on an African safari!
Let's take a look at their feelings regarding their experiences!
"There are not enough words to describe the love I have for this community. I am beyond thankful that I was given the opportunity to volunteer at Oranjekloof Primary School. My life has forever changed for the better, and I will never forget the amazing memories I made and the experiences I've had. This community is filled with children who have endless amounts of curiosities and aspirations. They have taught me so much, and I appreciate everything I have learned from them. Cape Town, South Africa will forever hold a special place in my heart." - Volunteer Dana M.
An Unforgettable Summer in South Africa Cont.
"I spent the past week volunteering at a school in Imizamo Yethu, a township in South Africa, and am so truly grateful for the experiences I had. I have seen the struggles that the community faces, but I also have witnessed and heard stories from people where they have been able to 'dream in a dreamless community,' and create a better life for themselves. Seeing how education can empower and change lives has been genuinely inspiring. My love for education has continued to grow throughout this trip and I am forever grateful for this community! I will absolutely never forget the people that I have met in South Africa and I can't wait to be back again someday soon." - Volunteer Grace C.
"I am so blessed to have had this opportunity to volunteer in South Africa. It was beautiful to see children be so grateful for the little things in life. This experience has shown me that happiness is a choice from within and is not dependent on how much you have. Witnessing this way of living has forever changed me. I hope to be back with these amazing people again one day."- Volunteer Ally S.
Learn more about Globe Aware's South Africa program
Leadership in the Galápagos!
A big thank you to our Science Leadership Intern, Maggie, for all her efforts with research and conservation on our Galápagos program this summer. We believe sincerely that young people will help lead the world to a greater future!
Volunteers are placed in a community on the south coast of Isabela Island in the Galápagos, seven hundred miles off the coast of Ecuador. Isabela is one of the four inhabited islands of the famous Galápagos, and is the largest island in the archipelago and is home to only a few thousand people. We work directly with a local NGO to provide volunteer opportunities around conservation and education efforts designed to protect the area's still thriving but threatened natural habitats.
Maggie spent a week exploring the island, and the beaches and assisting with conservation research.
"There is nowhere better in the world to do research and awareness work regarding conservation and science!
For the past couple of weeks, I've been lucky enough to explore this scientific oasis while working alongside the locals and endangered giant tortoises (rescue, rehab, breeding) as well as its neighboring islands. I became particularly fascinated by the evolution-driven anatomy of some of my favorite animals: sea lions, dolphins, sharks, tortoises, blue-footed boobies, etc."...Thank you Globe Aware for the immensely rare opportunity to dive into such a thrilling experience. I was able to exercise leadership and global communication among the welcoming Ecuadorian communities. Absolutely unforgettable."
Learn more about Globe Aware's Leadership in the Galapagos program
Charmed By Romania and Mexico
Rebuilding in Romania!
Rockstar volunteer, Don and his daughter Lexi, spent a week helping to get a community center ready for its grand opening. Here's what he's had to share!
"We repurposed cabinets donated, and rebuilt our cabinets.
Other jobs today included hanging solar lights and replacing five very old & gross toilet seats that were from repurposed (and donated) toilets.
Lexi hung solar lights and watered freshly planted grass seeds. But her biggest job was going through thousands of photos that would be used to decorate the community center. The people here are so nice and they have such good hearts, it's a pleasure to help."
Special thanks to Globe Aware-Volunteers!" - Don G. ( August 2023)
If you have questions about our Romania program, feel free to email us at office@globeaware.com
Embracing the Mexican summer!
Last month on the Camino del Mayab, Mexico, our trio of volunteers completed their renovation efforts at an ongoing project location. We had returning solo volunteer Ralph, and returning mother and son duo, Laney and Max!
Our journey to restore this ancient hacienda commenced in 2021, and witnessing our dedicated volunteers sustain the endeavor, now transformed into a community center for education and workshops, brings us immense joy. The week concluded on a high note, marked by community contributions, lively soccer matches, and festivities. Click the link below for our Mexico program!
Learn more about Globe Aware's Mexico program
Podcast Updates
Episode 12: Exploring your trip to Nepal
This podcast episode covers Globe Aware Nepal programs, "Mystic Nepal" and "Nirvana in Nepal!" Discover the exciting experiences awaiting you in this breathtakingly mountainous country. Learn about packing tips and project expectations for both locations: a monastery and a national park!
Episode 12: Listen Now
Episode 13: the case for travel ( part 1)
These podcast episodes take on a New Yorker article that critiques modern travel- suggesting that our pursuit of fulfillment through our journeys is doomed. Uncover the perspectives of both the Globe Aware staff and a volunteer as they respond to the topic!
Episode 13: Listen Now
Episode 14: a glance at the Galapagos Islands experience!
Kimberly Haley-Coleman, the Executive Director of Globe Aware, accompanies you on a journey to the Galapagos Islands located near the shores of Ecuador. During this adventure, we will provide insights into the islands' history, present our program on the islands, and offer a comprehensive depiction of the experience of being in the country.
Episode 14: Listen Now
Episode 15: the case for travel (part 2)
Globe Aware Executive Director, Kimberly Haley-Coleman, shares her thoughts on the article and delves a little bit more into how Globe Aware's values intersect with travel.
Episode 15: Listen Now