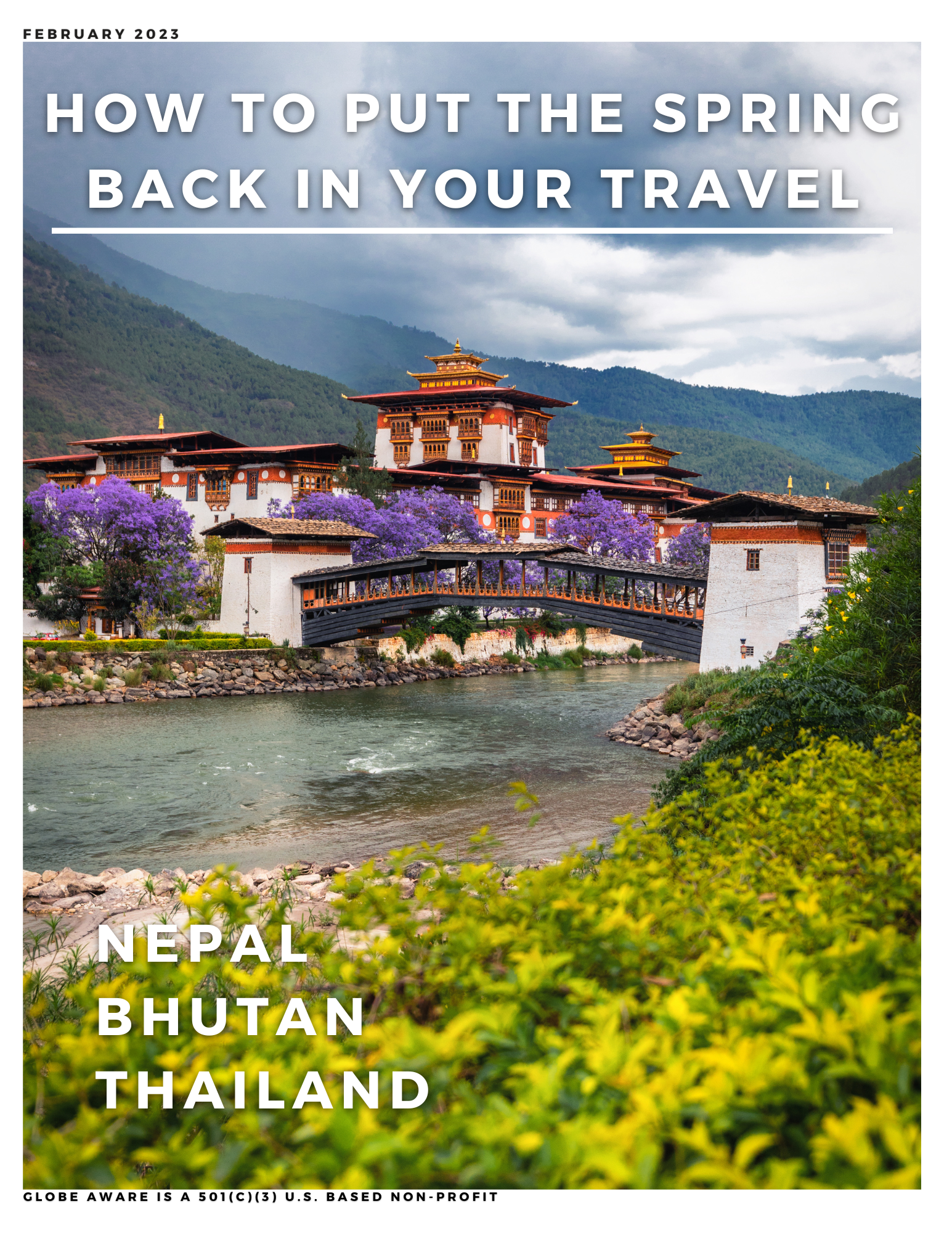 Spend a week at a Buddhist monastery with monks in training! Volunteers Madison and Nancy ( above in the center) did just that during their New Year's holiday break. Teach these eager young minds new skills and gain astounding experience and a plethora of memories to take back with you!

Our volunteers landed on the Sunday after Christmas and were taken to a nearby hotel in the center of Kathmandu for orientation and relaxation. The very next morning they were moved to the Manjhushrie Monastery for boys. They both spent the week immersed in teaching, engaging in cultural activities, and exploring their surroundings. They ended the week by handing donations of sports equipment to the lively young monks.

Leisure activities included a private tour of famous spiritual sites throughout the capital city, a homemade meal, and shopping in the busy and famous Thamel market.

For those interested in this volunteer vacation, you'll be teaching young monks English, arts & crafts, and sports while learning about Buddhist philosophy, their practices, and traditions, and joining in on celebrations!

Join us for a unique experience, book your week today by clicking the link below.
"The mission and scope of work for the kids were very compelling. Every person we met was terrific, and we felt very well cared for. Our experience was amazing, and we loved our time and the connection with the people and this region of Thailand. We really felt a part of the community." - Volunteer Tom T.

Two families spent their Christmas break in the Hill Tribes, the Thorpes and Hulls, both returning volunteers as well! We love when families come together and double the amount of work completed and joy spread in our programs.

These are just some of the activities they did during their week!

Celebrating and singing Christmas songs with the children at the project site, bringing unity and joy.
Assisting with sustainable formwork and gardening, helping to harvest and grow vegetables with the children.
Teaching English and language skills to small groups of students, eager to increase their proficiency for higher education opportunities.
Visiting the elephant sanctuary, helping with feeding and bathing.
The Hill Tribes make an excellent family spring break option, especially for those interested in finally flying to South East Asia for the first time ( or post-pandemic). Book today by clicking the link below!
Find out how it's different by reading about volunteer Maggie's first-hand experiences in the Kingdom of Bhutan.

" The thing that most surprised me about Bhutan was how deeply committed everyone was to their culture. What I mean by that is that every single building is made with exposed, hand-painted beams in a very specific, traditional Bhutanese style. Every single man and boy going to work or school is wearing their Gho. Every single meal included rice and chili cheese. Everywhere we went, particularly on weekends, we saw people playing their unique form of archery.

When I have been to places like India, Thailand, Japan, and Guatemala, I will certainly see architecture in the traditional style, but it is usually interspersed with modern architecture or buildings that do NOT conform to the culture. BHUTAN IS DIFFERENT.

Every last building, whether a convenience store, bathroom, airport, home, or storage facility, is gorgeous and made in the style that was decided on a few hundred years ago. And everyone seems so happy and peaceful.
The predominant attitude is to help and support one another. They have all learned various precepts of "Gross National Happiness" that they seem to reinforce in school homes and on television. It is just such a unique place. They live with much less material wealth than what we are used to. But they have access to healthcare, education, food, and housing.

Also, similar to the prior king in Thailand, everyone reveres the king and his family as they have done so much to help. The King gave up all of his power and lives in such a humble fashion. Seeing the relationship between the "subjects" and the king here will change your perspective on what it is to be a "monarchy."

Also, anyone looking to visit Bhutan should see the movie "Yak in a Classroom," which was nominated for an Academy Award in 2021 (a first for Bhutan!). In a very sweet manner, it reflects much of the culture and values of this tiny, fascinating country and why it is so very easy to love. It is not easy to get to, but there was a big payoff for making the effort.

Super safe, incredibly friendly, and unique. Those were my biggest impressions. I feel North Americans will learn a LOT from Bhutan and hope I get to go back soon!"

To learn more about Globe Aware's Bhutan program, please visit the link below!