Bulgaria and Romania look set to join the Schengen Zone by late 2023, affecting tourist visas and long-term travel. Find out what this means for Globe Aware volunteers looking to travel in Europe before or after their volunteer vacation in Romania.
---
These 2 Countries Will Join The Schengen Zone Impacting All Travelers And Digital Nomads
July 17, 2023
Travel off Path
The Schengen Zone is Europe's greatest achievement. A borderless customs union comprising 27 countries in its current form, it allows for seamless international travel across much of the bloc, freeing travelers from undergoing strict identity checks and facing long delays when country-hopping.
Earlier this year, Schengen welcomed yet another member – the Balkan country of Croatia – and it looks set to enlarge further in the near future as the group looks to lift all remaining border checks and bolster internal cooperation.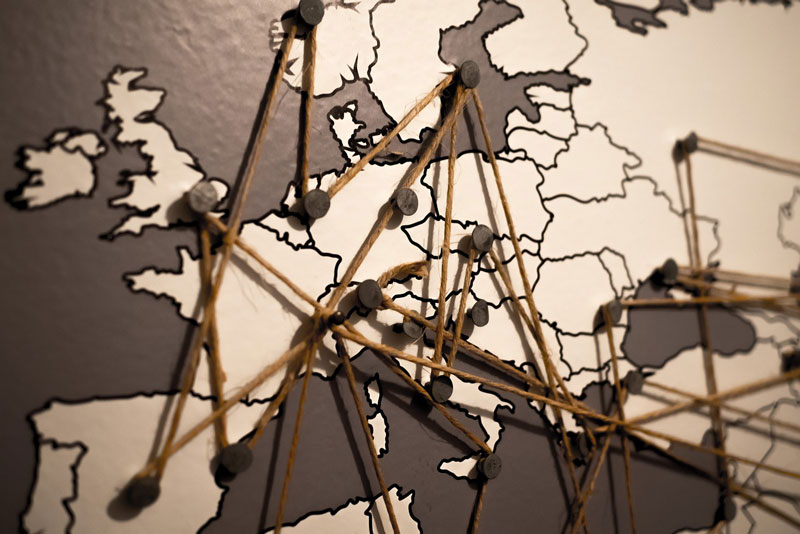 It is likely that, by the start of 2024, two new countries will be welcomed to the Schengen family, impacting all non-European travelers – and especially digital nomads – visiting Europe. Here's why:
Bulgaria And Romania To Become Schengen Members In The Near Future
As adopted in a new resolution published by the European Commission, European Union (EU) member states Bulgaria and Romania fulfill all the necessary criteria to become full Schengen members by the end of 2023.
Though both Balkan countries have joined the European Union as early as 2007, they have remained on a 'waiting list' to join Schengen due to concerns relating to unaddressed cross-border crime, illegal migration paths, and security issues.
As the Eastern Balkans guard the EU's borders to the East, with Bulgaria bordering the Middle Eastern Turkiye and Romania sharing land borders with the non-EU countries of Moldova and Ukraine, there was always some reluctance in accepting their Schengen membership bid.
After all, Schengen countries have no border controls with one another, allowing for the free, unchecked movement of people.
Security Concerns Are Addressed
In Bulgaria and Romania's case, this could have put Europe's internal security at risk, as argued by conservative lawmakers, seeing that their geographical location makes them a popular destination for irregular migrants and disadvantaged groups traveling via Turkiye and other poorer European countries.
Though they are full EU members, and Bulgarian and Romanian nationals alike enjoy freedom of movement across the bloc, they have always been subject to passport checks traveling to other countries in the EU and its associated Schengen Area.
EU membership is linked to, but not equivalent to Schengen, as there are EU countries that are not part of Schengen, as well as Schengen countries that are not part of the EU.
Any EU country, however, is legally bound to join Schengen eventually, and after being kept in the fridge for over a decade, the Eastern Balkans may now be ascending to the border-free group after safety measures were taken, and anti-corruption mechanisms enacted.
Schengen Accession Possible By The End Of 2023
According to the European Parliament, Bulgaria and Romania 'should be in Schengen' by the end of 2023, as resistance to the idea wanes across member states, and Austria, which previously barred both countries while green-lighting Croatia's bid, is now under mounting pressure to lift their veto.
In order to ascend to the Schengen Area, aspiring countries must obtain approval from every single Schengen member state, and Austria's veto last year was the only roadblock on their accession path.
The European Commission states that there are unnecessary delays, 'bureaucratic difficulties and additional costs associated with these countries' exclusion from Schengen.
They have also pointed out that border delays when traveling from Bulgaria or Romania to other EU countries can last for many hours, compared to an average '10 minutes without internal border checks' for intra-Schengen travelers.
Whether it's late 2023, early 2024, or at some point in the near future, Bulgaria and Romania will join Schengen, but what does this mean for non-European travelers, including Americans, other than smoother international travel?
What Does This Mean For Travelers?
First of all, Americans must know they can only remain in the Schengen Area for 90 days out of any 180-day period. There are currently 27 countries in Schengen, those being:
Austria
Belgium
Czech Republic
Croatia
Denmark
Estonia
Finland
France
Germany
Greece
Hungary
Iceland
Italy
Latvia
Liechtenstein
Lithuania
Luxembourg
Malta
Netherlands
Norway
Poland
Portugal
Slovakia
Slovenia
Spain
Sweden
Switzerland
For instance, when entering the bloc on January 1, they are allowed to remain until the clock strikes midnight on April 1, totaling 90 days. After the period is up, they must exit Schengen and cannot be re-admitted until 90 days outside the zone have passed.
Alternatively, they can choose to spend non-consecutive periods of time within Schengen, across a 180-day time span.
Entering on January 1, and staying in the bloc until January 31, they would, in theory, have a further 60 days to travel across Schengen until June 30, though exact calculations can be made using the official Schengen calculator.
Either way, they cannot spend longer than 90 days during whichever 6-month time frame at any time, even though these are different countries. For example: spending 30 days in France, then 25 in Italy, 11 in Croatia, 13 in Greece, and a further 11 in Malta, you will have used up your 90-day limit.
Traveling to either Bulgaria or Romania, however, Americans get 90 days individually in each of the countries as tourists, irrespective of time spent in Schengen previously, as these states do not currently participate in the border-free agreement.
Essentially, you can spend 90 days in Schengen, then travel directly to Bulgaria or Romania, staying three months in each, without breaking immigration rules. The same rule applied to Croatia up until January this year, prior to its Schengen accession.
When both states realize their Schengen ambition, however, this will no longer be possible.
Does This Mean Less Time In Europe For Long-Term Travelers?
Once Bulgaria and Romania ascend, Americans traveling long-term, especially digital nomads, will no longer be able to extend their time in Europe legally by using them as Schengen 'wait zones'.
Currently, one of the community's favorite hacks for residing in Europe for years on end, without getting on the wrong side of immigration officers or ever applying for one of those complicated resident visas, is alternating time spent in the Schengen states and non-Schengen states.
That way, they can effectively reside in Europe continuously by spending three months in, and three months outside the Schengen Area.
Bulgaria and Romania are popular non-Schengen destinations for digital nomads as they are easy to get to, cheaper to reside in, as they are not yet part of the Eurozone, and the cultural offer is vast.
In fact, Bulgaria now currently hosts one of the largest digital nomad events in the continent, with the small alpine town of Bansko boasting the highest concentration of co-working spaces in the world.
Once Bulgaria – and its neighbor to the North – join Schengen, American nomads and travelers will be subject to Schengen entry and short-stay rules.
Any time spent in other countries like France, Italy, or Spain, will count towards your 3-month visa-free stay in Bulgaria or Romania. This means if you spend 40 days in other Schengen states, you will only have 50 days left to explore the Eastern Balkans.
It is worth noting Schengen accession has not yet taken place, and it probably won't until early 2024 at the earliest, but it is inevitable at this point, now that the countries have taken all the necessary measures to join and the European Commission has supported their aspiration.
What Are The Alternatives Left For Extending Your Time In Europe?
Is this the end of long-term travel across Europe? Most definitely not.
There are still several European countries that are not yet or do not plan on becoming Schengen members in the future.
Ireland is one of them, having turned down Schengen proposals as early as 2025, controlling its own borders, and drawing up its own immigration rules.
Though Ireland is an EU member, it maintains a borderless zone with the United Kingdom called the Common Travel Area (CTA).
Americans can stay in the CTA, which includes the historic nations of England, Scotland, Wales, and Northern Ireland, which form the United Kingdom, the country of Ireland, and other British crown dependencies, such as the Channel Islands, for 180 days regardless of time spent in any other European country.
The Eastern Mediterranean country of Cyprus is also an EU member sitting outside of Schengen for now due to unresolved border disputes with Turkiye.
In the Balkan Peninsula, there are also numerous options left for you to extend your European trip beyond Schengen's restrictive 3 months.
These are all the non-Schengen, as well as non-EU Balkan countries, welcoming tourists for 90 days each:
Serbia, the only Balkan state to host nonstop flights from the U.S. and a severely underrated cultural destination
Albania, the Mediterranean's new rising star, home to the 'Maldives' of Europe
Bosnia and Herzegovina, where locals are eager to welcome tourists, and the sweeping natural panoramas will take your breath away
Montenegro, the pearl of the Adriatic, dotted with ancient coastal ports, cobblestone towns, and famous for its rugged nature and turquoise waters
North Macedonia, a landlocked country with a fascinating History, best known for its landmark Lake Ohrid
Kosovo, Europe's youngest, partially-recognized country, where overtourism is not yet an issue and consumer prices are much lower
Beyond the Balkans, other non-Schengen European countries include Moldova and Ukraine, though the latter is currently off-limits to most tourists due to the war, and Belarus and Russia, two unfriendly states you probably will not visit anytime soon.
Additionally, in the wider Eurasia, we have Turkiye and Georgia.
Albania and Georgia are the most generous out of any non-Schengen country, as they allow American citizens to remain in the national territory for an entire year.
Albania's one-year rule applies only to Americans. Georgia's one-year rule applies to all nationalities.
The Future Of Travel In Europe
As you can see, Bulgaria and Romania's looming Schengen accession is hardly the end of the world for digital nomads, as there are still numerous incredible countries in the vicinity worth exploring as you wait to be re-admitted into Schengen, but there's no denying the Eastern Balkans will lose some of their appeal among long-term travelers once included in the border-free zone.
Overstaying your time in Schengen can result in hefty fines, entry bans of five years or longer, and/or criminal prosecution.