Vietnam is coming into prominence as one of the top destinations in Southeast Asia. Its natural wonders and incredible culture are making it into the mainstream inspiring American tourists to get out of their comfort zone and travel across the world to explore the country.
---
Vietnam Is Becoming More Popular Among American Tourists – Here's Why
January 2023
Travel Off Path
Vietnam is coming into prominence as one of the top destinations in Southeast Asia (SEA). Its natural wonders and incredible culture are making it into the mainstream, inspiring American tourists to get out of their comfort zone and travel across the world to explore the country – despite the limited flight options and the complex logistics of getting there.
Since it fully reopened for tourism in early 2022, becoming one of the first in SEA to drop entry rules and welcome U.S. travelers irrespective of vaccination status, demand for nationwide tourism has increased dramatically. So much so that the famous online travel agency Kayak proclaimed Vietnam the top destination in Southeast Asia for 2023.
Only adding to the buzz, the mystical Land of the Blue Dragon is now on a steady recovery path, with further growth expected this year: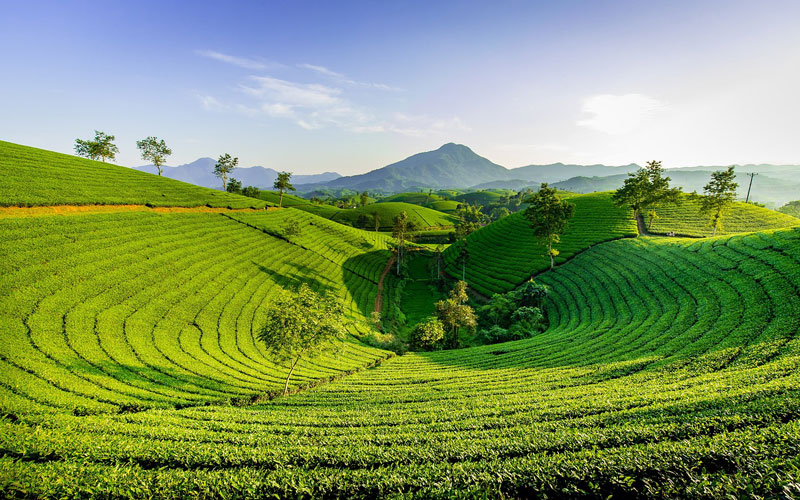 23.3 Times More Visitors In 2022
Last year, Vietnam welcomed 3.36 million visitors, still down by 79.9% compared to the pre-pandemic reference year of 2019, but 23.3 times more than it did the year before, proving its reopening was hugely beneficial to tourism. Prior to March 2022, the vast majority of foreign travelers were barred from crossing into the territory.
Vietnam enacted one of the toughest anti-Covid measures seen in Asia, sealing its borders as soon as the World Health Organization sounded the alarm and remaining completely isolated for two years. During this period, travel into Vietnam was restricted only to Vietnamese nationals and foreigners who had obtained authorization or held a residency permit.
Of course, the initial reaction sent the travel industry into a tailspin, and the fact it has only recovered by 30% almost a year into reopening is proof the long-term effects of the Government's earliest decisions will be felt for a long time still. On the bright side, tourists have started to come back, and Thai authorities have identified America as a market worth exploring.
Out of 3.36 million guests in Vietnam throughout 2022, 388,873 arrived from the Americas, including North, Central, and South. U.S. visitors, in particular, have contributed the most to this number. While American traffic as a whole (continent-wise) increased by roughly 6.9% in December, one of the busiest months, U.S. arrivals climbed by an even higher 7.7%.
Vietnam Showing Positive Signs Of Recovery
While it may not seem like much at first, it is worth noting hesitancy around travel to Asia remains widespread, even though many destinations in the region have abandoned their hardline Covid policies by now. Some would argue it is a direct consequence of two years of self-imposed seclusion coming back to bite them:
Unlike Mexico, which remained open from the beginning and paved the way for a historical 2022, Vietnam, and other SEA partners will need to work harder to regain the trust of travelers – both the reintroduction of health mandates following the viral surge in China and Thailand's back and forth with entry rules has not helped their case.
Taking this into account, as well as the fact that there is a limited number of flights connecting the U.S. and Vietnam, we can assert that the 2022 figure, albeit moderate by most standards, is still quite impressive. The General Statistics Office in Vietnam also listed Europeans (508,398) and Australians and New Zealanders (156,645) as valuable customers.
So why, exactly, is Vietnam attracting a rising number of visitors in the post-Covid scene?
This Is Why Vietnam Is Becoming So Popular
Vietnam is a culturally-rich country with a painful yet fascinating recent history. Whether you were born in the seventies and watched it live on the telly, or in the nineties and learned about it from textbooks, we are sure the iconic images of the Fall of Saigon and the controversial triumph of communism in South Vietnam are imprinted on your mind.
In spite of its millennial heritage, this is a newborn country still finding its footing in a fast-changing world, and that has only eased visa restrictions for outsiders in recent years, allowing us the privilege of visiting previous generations simply didn't enjoy. Needless to say, it is a different world altogether from your usual vacay spots in the West.
The Most Chaotic, Vibrant Cities
If you like your cities a bit rough around the edges, then you'll understand why so many adventurous Americans find Hanoi and Ho Chi Minh City (formerly Saigon) impossible to resist: the two most important urban centers are a complex maze of narrow, unplanned streets thriving with trade, vibrant fleamarkets, old colonial buildings, and ancient temples.
On the other hand, if the busy city life doesn't seem appealing and its bucolic, rolling rice terraces etched into green hills, quaint villages, and remote pagodas set against dramatic backdrops you're after, you'll soon realize Vietnam is brimming with them, from the Sapa heartland to the pilgrimage sites of the Ninh Binh province.
Beautiful Architecture
A fan of architecture and old ruins? Worry not: there are numerous jaw-dropping imperial palaces to keep the sightseer in you entertained for days. A favorite of ours is Hue, a historical city in central Vietnam home to the stunning Forbbiden Purple City, the seat of the Nguyen Dynasty, sumptuously-decorated temples, and a monumental moated citadel.
Pristine Beaches
You're not a huge lover of History, and you're looking instead for a place to unwind, bury your feet in the sand, and disconnect from the chaos of the modern world? Vietnam has got you covered: it is packed with paradisaical beaches boasting postcard-perfect turquoise waters and lined with luxurious resorts – available at accessible rates.
Vietnam Is Cheap To Visit
This is a big country, slightly larger than the state of New Mexico, and as you can see, there is something for everybody. There is, of course, one last thing to mention: Vietnam is incredibly cheap for middle-income Americans, as the devalued currency, coupled with the lower cost of living, allows them to access luxuries they wouldn't be able to afford in the States.
In actual numbers, their purchasing power is boosted by 170.2% in cities like Hanoi; consumer prices tend to be 75.7% cheaper than in New York. Effectively, this means their dollars stretch much further here than back at home. In a way, Vietnam – and Southeast Asia, for that matter – is the perfect backpacking destination when you're young and broke.