The island of Cuba is full of surprises and bucket-list-worthy secret places, ranging from picturesque colonial towns to breathtaking natural attractions. Here's a list of the best-hidden gems, many of which are included on our Globe Aware volunteers' itinearay!
---
Incredible Hidden Travel Gems To Not Miss In Cuba In 2023
BY QUINTER AUMA
May 13, 2023
The Travel
There are many things to do in Cuba, but many spots can see crowds. Instead, explore these secret places in Cuba during your next visit.
Cuba is one of the most unique destinations in the Caribbean and will charm every traveler with its incredible blend of African, Spanish, and Caribbean cultures. Cuba was a popular vacation destination for Americans in the 1930s, and visiting the island takes tourists back in the day. The gorgeous colonial buildings, vintage cars, and antique shops and bars adorn the towns. The island is full of surprises and bucket-list-worthy secret places, ranging from picturesque colonial towns to breathtaking natural attractions. Want to experience the magic that comes with exploring the Caribbean Islands? Here are the best hidden gems in Cuba to add to the itinerary.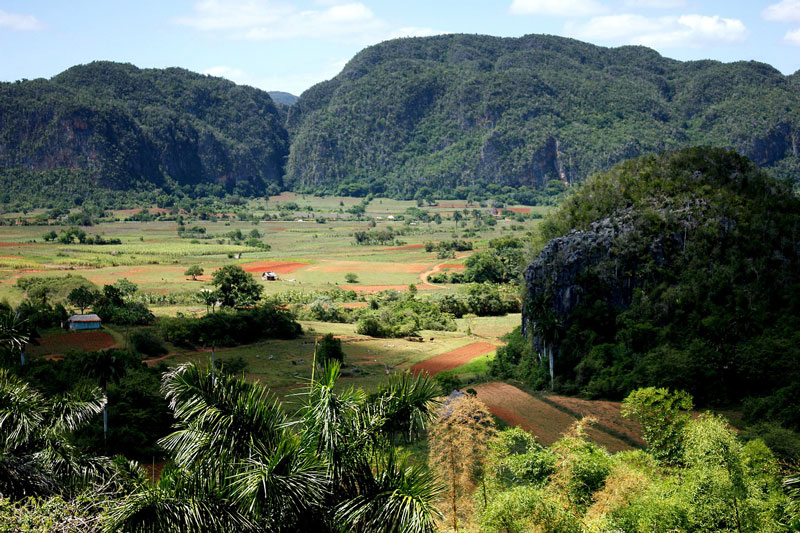 10 Vinales Valley
A UNESCO World Heritage Site, Vinales Valley is located in the countryside but is definitely one of the best things to do in Cuba in 2023. The place is incredibly green and is brimming with plenty of cultural attractions. Vinales is famous for being a major producer of Cuban cigars, and vacationers will enjoy experiencing traditional farms and learning the production and harvesting processes of cigars. This valley is also home to numerous caves with unique formations, including the Cueva del Indio. Vinales Valley is among the things that make Cuba such an amazing Caribbean Island.
Staying around Havana, Cuba's Capital? Vinales is only a two-hour drive away from the city, making it one of the best day trips to visit. One can drive or explore other transportation options, such as taxis or public coaches.
9 Baracoa
Traveling to the Eastern tip of Cuba, Baracoa is an incredible gem not to miss in 2023; it's one of the more intriguing parts of off-the-beaten-path Cuba. The location is known for being the island's first Spanish settlement, making it the oldest colonial city on the island. Vacationers can learn about this fascinating history, including Christopher Columbus' trip to the place in 1492. The town's spectacular mountainside surroundings, incredible food scene, and colonial charm make it stand out from the rest of Cuba's destinations, and visiting it will definitely be worth it.
8 Cienfuegos
Situated on Cuba's southern coast, Cienfuegos is one of the most charming coastal cities in the Caribbean, known for its fascinating colonial architecture and long, beautiful history. Discovered in 1819, Cienfuegos is one of the less crowded places in Cuba and is an incredible option for tourists looking to get a bit off the beaten path. It is home to plenty of historic buildings and sites, such as Punta Gorda, one of the oldest neighborhoods in Cuba. The cultural scene is also vibrant, and travelers can experience many traditional performances when they visit. This is one of Cuba's best-kept secrets and guarantees an unforgettable trip in the Caribbean.
7 Santa Clara
Located in the central part of Cuba, Santa Clara is a charming historic city known for playing a crucial role in Cuban Revolution. Its beautiful architecture and the charm of its historic sites and buildings, such as Teatro La Caridad, Che Guevara Mausoleum and Museum, and Palacio Provincial, make it an incredible gem not to miss in Cuba in 2023. The revolutionary city is also home to plenty of music venues, impressive art galleries, and cultural sites, which are among the best things to do in Santa Clara. There are also numerous natural beauties to explore in the city.
6 Santiago De Cuba
Just south of Baracoa is Santiago de Cuba, a gorgeous coastal town with a rich history. While many vacationers focus their trips on more popular travel gems in Cuba, like Havana, Santiago de Cuba is definitely one of the reasons one will probably fall in love with Cuba, thanks to its unique experiences. It may not have Havana's metropolis vibe, but it is definitely among the most beautiful cities to explore in Cuba. It is home to a wonderful culinary scene, impressive beaches, and an amazing culture that travelers can witness in the music and dance performances from time to time.
5 Playa Jibacoa
Nestled in the heart of the Cuban countryside, Playa Jibacoa is a stunning resort positioned along a beach, believed by many to be the most beautiful beach in Cuba. Surrounded by lush hills, this is a perfect retreat for nature lovers and travelers looking to explore the local culture. It is located not far from Havana, making it a great spot to base oneself for those who want to have easy access to Cuba's capital. Diving and snorkeling are some of the most popular activities. With a colorful coral reef situated just a few meters from the shore, which means vacationers won't have to pay for an excursion or a boat ride to enjoy exploring the underwater.
Apart from enjoying a day trip from Havana, tourists can also enjoy visiting Playa Jibacoa from Varadero, another popular travel destination in Cuba.
4 Remedios
Found in Central Cuba, Remedios is a charming small town boasting incredible architecture dating back to the colonial period. Discovered in 1513, Remedios is one of the oldest towns in Cuba and is recognized for its vibrant Christmas celebrations. During the holiday season, the town is adorned with twinkling lights, while the streets are filled with Christmas parades and parties. There are numerous historic buildings, including churches, such as Iglesia de San Juan Bautista and the Parroquia Mayor. Its colonial charm and holiday traditions make it a wonderful travel gem not to miss in Cuba.
3 Camaguey
Camaguey is located in central Cuba with fascinating colonial architecture. One of the best things to do here is to stroll through the town's narrow streets and the fabulous alleys. Camaguey has numerous historic buildings and sites, such as Plaza de los Trabajadore. The historic city also boasts a cultural scene with beautiful art galleries and cultural attractions. Camaguey is one of the best Cuban destinations to learn the island's history and culture.
2 Trinidad
Trinidad dates back to 1514, making it one of the oldest towns in Cuba. A UNESCO World Heritage, this is one of the incredible hidden gems in Cuba, thanks for having numerous things to offer, including beautiful historic sites, such as the Palacio Brunet, the Plaza Mayor, and the Museo Romantico. History lovers can enjoy taking guided tours in the city to explore colonial architecture. Nature lovers can also visit the nature reserves and national parks located nearby, while culture enthusiasts will enjoy the traditional music and dance performances that take place throughout the year.
1 Playa Sirena
Situated on the gorgeous island of Cayo Largo, Playa Sirena is one of the best beaches in Cuba and is a perfect choice for tourists looking for a more secluded spot. The beach is one of the lesser-known places in Cuba and features stunning white sand, crystal-clear water, and an incredible atmosphere. Snorkeling and diving are must-do activities in Playa Sirena, thanks to a portion of the Parque Nacional Marino de Cayo, which is famous for having incredibly diverse marine life.