While traveling into countries may have become easier, it's still important Globe Aware volunteers be prepared for re-entry back into the United States. Our volunteer vacations provide testing on site or at your accommodations, provide travel insurance and assist with understanding government regulations and procedures.
---
5 things I learned after testing positive for COVID-19 abroad
Taylor Jenkins
April 9, 2022
The Points Guy
After a great adventure in Argentina, it was time to come home.
Then, seven hours before my return flight from Buenos Aires to Atlanta, I received the results of my COVID-19 test required for re-entry to the United States. The news sealed my fate for the next few days. With a positive test, I was not going to be able to board my Delta Air Lines flight that evening.
In the days that followed, five lessons about traveling during COVID-19 became abundantly clear to me. So long as negative tests are required for re-entry into the U.S., these lessons will remain true — so I am sharing them here so anyone traveling abroad can embrace them.
It had been three months since my last trip to Argentina. This time, my wife and I were returning for the wedding of two close friends and a quick escape to Argentina's famous wine region of Mendoza. As a fully vaccinated and boosted U.S. traveler with a negative COVID-19 test, I was able to enter Argentina with ease. I would not have guessed that my entry into Argentina was going to be easier than my re-entry to the U.S.
Here's a brief overview of the current entry requirements for Argentina and a little bit of background:
Argentina entry requirements
As a fully vaccinated traveler, I needed three things to enter Argentina. Like many countries, Argentina requires you to fill out an affidavit form within 48 hours of departure. The form is straightforward, only requiring typical traveler information: arrival, departure, passport number, etc. Additionally, I needed a negative PCR test taken with 72 hours of departure and proof of medical travel insurance. The U.S. embassy in Argentina provides a great overview of all requirements.
The trip to Mendoza
My wife and I spent the days leading up to the wedding exploring the bodegas and vineyards of Mendoza. Traveling within Argentina also proved easy. There were no additional requirements for travel within the country. A first for me, we flew the low-cost local carrier, Fly Bondi, from Aeroparque Internacional Jorge Newbery (AEP) in Buenos Aires to Governor Francisco Gabrielli International Airport (MDZ) in Mendoza. While a full review isn't necessary, I will say that I would use Fly Bondi again, but will certainly anticipate frequent (and drastic) changes to my originally scheduled flight leading up to the day of departure.
It was on day two of our vineyard tours in Mendoza that my congestion started. As it was the only symptom to manifest itself, I didn't think much of it. Congestion has been pretty par for the course for me each time I've made the journey from our U.S. winter to summer in Argentina. My congestion cleared up over the next few days, and was mostly gone just in time for the Saturday wedding. Little did I know my brief bout of congestion would have larger ramifications.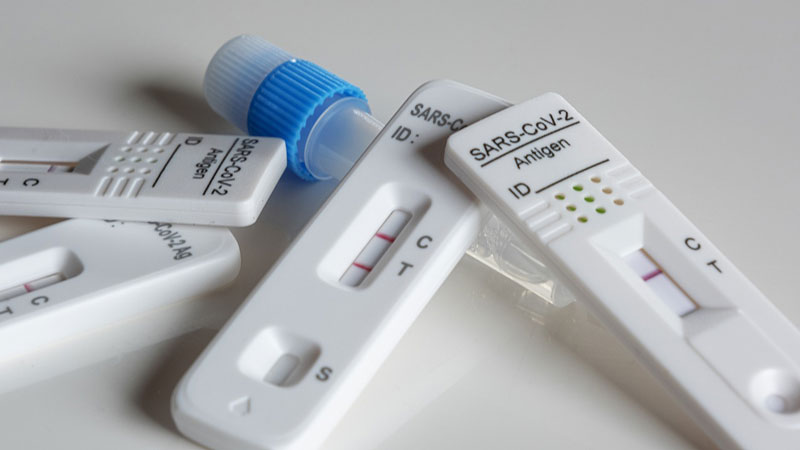 The test
We were scheduled to return to the U.S. on Monday night aboard the Delta red-eye to Atlanta. With the U.S. still requiring a negative antigen test taken no more than one day prior to departure, we scheduled our tests for Monday morning. As a side note: If you find yourself needing a test in Argentina, I highly recommend using Stramboulian. Scheduling was easy and there are multiple locations in popular areas.
Within a few hours, we received our test results: negative for my wife and positive for me. What transpired over the next few hours and days consisted of a lot of research into quarantine requirements and travel requirements to understand what I needed to do locally and what I needed to do in order to return to the U.S. as quickly — and safely — as possible. The rules mandated 7 days of quarantine from the onset of symptoms with at least 48 hours symptom-free plus three days of "special care," meaning not going out in crowds. I ended up in Argentina about five days longer than planned.
After a few conversations with my primary doctor and a few days without symptoms, I ultimately flew home on Friday evening with my positive test and a signed letter indicating proof of recovery. Luckily for me, the entire experience was nothing more than a minor inconvenience. However, five lessons became abundantly clear.
My lessons learned
Travel with take-home tests
Before leaving for your international trip, purchase at least one take-home test to take with you. Depending on your destination, tests can be difficult to find or, at the very least, inconvenient to find. Considering my symptoms were never more than mild congestion, I never felt the need to seek out a testing center prior to my mandatory test for returning home. However, if I had a take-home test on hand, there's a good chance I would have used it and had a few days' head start on planning my next moves regarding quarantine and my return trip.
'No more than one day before you travel' does not mean 'No more than 24 hours before you travel'
The United States' testing requirement for international travel states that travelers "are required [to] show a negative COVID-19 viral test result taken no more than one day before travel…" I had interpreted this to mean that for a 9 p.m. flight on Monday, your test could be conducted no earlier than 9 p.m. on Sunday. After testing positive, I learned "one day before travel" means that your test can be taken at any time during the day before your travel date. While this knowledge would not have changed my circumstances, earlier awareness of my predicament would certainly have reduced my stress levels in the short seven hours between learning my test results and my scheduled departure.
Required or not, purchase trip insurance
To satisfy Argentina's insurance requirement, I purchased the bare minimum $12 plan from Trawick International. While it remains to be seen how the claims process goes, my plan included $150 per day of trip delay insurance.
Luckily for me, I was able to stay with local friends. However, had I been in a different destination, I would likely have needed a lot more coverage to find a suitable hotel for my extended stay. For my needs, the $150 was plenty to cover food and other costs I incurred. In the future, I will make a deliberate calculation to ensure my trip delay coverage matches my potential needs at my destination.
If you're able to work remotely, travel with your work computer
So long as there is a testing requirement in place necessary for re-entry to the U.S., all travelers should anticipate the possibility of testing positive abroad. Having recognized this prior to my trip, I made the decision to bring my work computer with me. While it stayed in my backpack for the entire first part of the trip, I was certainly glad I was able to work remotely after my planned return was disrupted.
Don't upgrade your flight until you have your negative test in hand
The day before our original return trip, I had upgraded our seats to Delta Premium Select using miles that transferred from American Express. When it came time to change my return flight, I was reminded that upgrades made using miles are non-refundable. The miles I used to upgrade my original ticket disappeared in an instant. To make matters worse, the additional price of the upgrade was not part of the equation in determining the price difference between my original fare and my new fare (the only remaining element of change fees after Delta dropped nearly all change fees in 2020).
Fortunately, it only cost me $68 to change my ticket — but you may not be so lucky.