There's something extra special about traveling during the fall for our Globe Aware volunteers. South Africa and Mexico are two of those travel destinations, whether you're making plans for this fall or fall 2022!
---
The Best Places to Travel in October
Where to go for harvest festivals and Halloween fun.
BY CAITLIN MORTON
August 17, 2021
Alamy
As much as we love beach lounging in summer and exploring snowy wonderlands in winter, there's something extra special about traveling during the fall. Aside from fewer tourists and lower prices, October brings harvest festivals, Halloween parties, and the best foliage of the year. (And those warm beaches are still open, if you're willing to fly for them.) Whether you're looking to view some spectacular fall foliage or escape to the warm Caribbean this year, these are 10 of the best places to travel in October.
Note: Due to the Delta variant of coronavirus, it's a good idea to consider extra precautions if traveling this fall. We recommend investing in "cancel for any reason" travel insurance and only booking changeable flights and accommodations. It's also crucial to obtain medical insurance that will cover you abroad, and to research different countries' case and vaccination rates when choosing your destination.
Salem, Massachusetts
It's Halloween this month, so where better to book a trip than America's unofficial witching capital? Snag a room at The Hotel Salem or The Merchant (they're both owned by Lark Hotels, famed for its funky makeovers of countless New England inns) and then make your way into town. Salem celebrates its connection to the occult all month with a program of events, including horror film festivals, séances, and a fair with psychics on hand to read your future. (See complete calendar here.) During the festivities, it's worth pausing to consider the history of Salem's witch trials at the 1692 Salem Witch Museum. The museum recreates the trials using actual documents as the basis for its life-size stage sets, and hosts an exploration of witchcraft in all its forms through the ages.
Cape Town, South Africa
Cape Town is one of the best places to travel in October, as the month signals the height of springtime in the southern hemisphere. That means you can plan on tons of outdoor activities, from walking among spring blooms in Kirstenbosch Botanical Garden to touring vineyards in Franschhoek. You could also spend an entire trip hopping between Cape Town's best beaches. Camps Bay Beach is worth visiting for the views of Lion's Head and the Twelve Apostles alone, as is Windmill Beach (a 10-minute walk from Boulders Beach) for its warm water and boulders you can jump off. Stay at Readers' Choice Awards darling Cape Cadogan Boutique Hotel, 15-room Georgian-era townhouse tucked away in a residential street in Gardens (a fashionable neighborhood known for its restaurants, bars, and interior shops). The street-level luxury suites come with their own spacious sun terraces and private pools, making you feel like you're in an incredibly beautiful private home.
Albuquerque, New Mexico
Known as "the most photographed event in the world," the Albuquerque International Balloon Fiesta (October 2 to 10) does not disappoint, offering families and travelers the chance to get up close with hundreds of seven-story balloons ranging from cute animals to Darth Vader. You'll want to wake up before dawn to get a prime viewing spot for the Mass Ascension, when all the balloons rise together to the tune of "The Star Spangled Banner." You can crash later that night at Hotel Chaco, a sleek, contemporary property with Native American–inspired art and architecture located in the heart of Old Town. That ideal location and perfect October weather means you can explore all the museums and markets downtown without breaking a sweat.
Loreto, Mexico
We're big fans of the Baja California Sur peninsula in Mexico, with its beautiful scenery and luxury resorts. While most tourists flock to Los Cabos, set your sights on the underrated city of Loreto. Located about 230 miles north of Cabo, the town is best known for its secluded, unspoiled setting on the Loreto Bay National Marine Park, a UNESCO World Heritage site. For stress-free planning, book a stay at Villa del Palmar Beach Resort & Spa at the Islands of Loreto, where guests can enjoy scuba diving tours, cultural city tours, whale watching excursions, kayaking, surfing, and ATV desert tours. After a day spent adventuring, head back and unwind at the 39,000-square-foot Sabila Spa or one of the resort's five swimming pools.
Aspen, Colorado
Aspen may seem like a bit of an obvious choice (hello, mountains famously full of yellow leaves), but obvious isn't always a bad thing. Hotel Jerome is a great place to set up camp, with a huge array of activities on tap for guests looking for an outdoor adventure—think horseback riding in the Rockies, riding a Jeep through alpine backcountry, and stand-up paddleboarding along the Colorado River. The hotel can also arrange day trips to the Maroon Bells, a pair of mountains that is one of the most photographed spots in the entire state. In fact, professionals are known to flock to the shores of Maroon Lake well before sunrise to nab that stunning fall shot.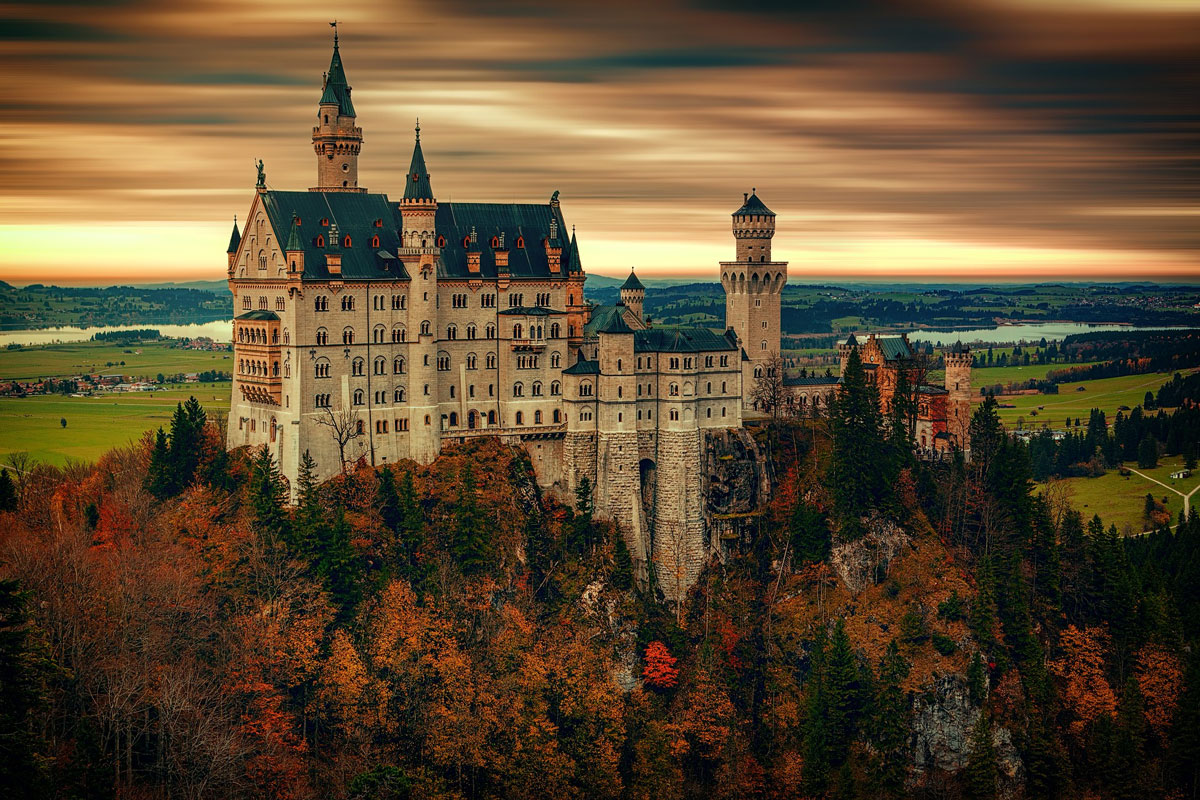 The Bavarian Alps, Germany
An autumn trip to southern Germany is about so much more than Oktoberfest (which has been canceled for 2021 anyway). Fall may be the best season to visit the Bavarian Alps, when the weather is perfectly cool and the mountains transform into a technicolor dreamscape. The season is prime for outdoor enthusiasts as well, with areas like Berchtesgaden and Lake Tegernsee lending themselves to some epic scenic hikes. Shutterbugs are never disappointed by the Disney-esque Neuschwanstein Castle, whose white turrets look best against a backdrop of deep reds and oranges. Spend at least a couple days tucked away in Hotel Bachmair Weissach, a modern alpine property located in the lake town of Tegernsee. With walls adorned with antlers, a cloistered courtyard, plaid carpets, and scalloped wood balconies off each of its 141 rooms, it will fulfill every romantic Bavarian fantasy you can think of.
Barbados
Barbados made headlines in 2020 when it announced its Welcome Stamp visa for sun-seeking digital nomads. Valid for 12 months, the visa allows anyone earning over a certain salary to live and work remotely temporarily. If you're not ready to commit to a year-long visit, it's still worth flying down here in October. Book an oceanfront villa at The Crane, one of the country's finest resorts, and spend a few days exploring the Bajan rum circuit. Though it's now ubiquitous across the Caribbean, rum was formally first distilled at the Mount Gay Rum headquarters in 1703. Head to its visitor center and you'll be able to learn more of that history, as well as sample a range of great dark and white blends. Then head to Bathsheba Beach on the east coast—one of the best stretches of sand in the world—where you'll find big, surf-able waves and shallow pools carved by the coral reef right off the shore.
Asheville, North Carolina
Don't discount the South when it comes to fall foliage, especially the Blue Ridge Parkway and Carolina mountains. Make Asheville your home base for exploring the parkway in both directions: to the south, drive to Pisgah National Forest, filled with waterfalls and fall foliage–covered hills on view from Looking Glass Rock, and to the north, the curving Linn Cove Viaduct hugs Grandfather Mountain, offering some of the parkway's most iconic views. Get a dose of the funky lifestyle in downtown Asheville: sample the African-meets-Appalachian food at Benne on Eagle, browse fem theory and queer lit at Malaprop's Bookstore and Cafe, and drink a Strawberry Milkshake IPA at Highland Brewing Company. Stay at Asheville's best boutique property, The Foundry Hotel, for comfortable rooms with exposed brick walls, a chic lobby bar, and a restaurants serving up modern spins on comfort food.
Santorini, Greece
More than two million people visit Santorini each year. To dodge those crowds—and to experience a more authentic side of the island—plan your trip during the off-season in ​​October and November. Visit Red Beach and take in the legendary sunsets in Oia, of course, but then search for some more under-the-radar spots. Only one in 20 travelers to Santorini goes to Akrotiri, an almost perfectly preserved ancient city and archaeological site. Visit some wineries at Vlychada, or hire a guide to take you around Akrotiri. Then get some rest at Incognito Villa, located at the end of a dirt track on the beach near Monolithos and the airport. It has its own garden and a little pool, and you can walk in either direction along the beach to a taverna. Even in the height of summer, it is amazingly quiet.
Hudson Valley, New York
If you're looking to totally lean into the cider-sipping, sweater-wearing, pumpkin-picking vibe of fall, look no further than the Hudson Valley. Aside from offering primo leaf peeping opportunities, October is the best time to go apple picking or sample some hard cider made from local produce at Angry Orchard. Alternatively, take in a movie at the Four Brothers Drive-In Theater or celebrate Halloween with the Great Jack O'Lantern Blaze in the grounds of Van Cortlandt Manor (advance reservations required). More than 7,000 pumpkins are displayed there each night, including a 25-foot-tall Statue of Liberty, all of which are carved onsite by a team of 1,000 volunteers. Look to Warren Street in the heart of town for accommodations: either at the retro Rivertown Lodge, complete with wood fire burners and bicycles to borrow, or the relatively new Maker Hotel, filled with one-of-a-kind pieces of furniture and a restaurant serving up ingredients sourced from local farms.