Traveling alone isn't always easy especially as a solo female traveler in a post-pandemic world. Globe Aware is the perfect option, providing a personal itinerary and English speaking coordinator at all of our program locations, including Laos, one of the destination's mentioned.
---
8 Destinations for Female Solo Travelers, According to the Pros
From Amsterdam to Cartagena.
BY SHANNON MCMAHON
May 5, 2021
Empowering, exciting, challenging: Few things are more rewarding than solo travel—and pre-pandemic, research showed it was on the rise, especially with women. Sure, you might have to ask a complete stranger to take that photo of you walking across Tokyo's Shibuya Crossing or standing outside of Barcelona's Sagrada Família, but it's a small price to pay for the freedom to plan a trip exactly how you want it, when you want it.
That said, traveling alone isn't always easy; choosing the right destination can be equal parts exhilarating and overwhelming when you (and you alone) are responsible for all the research, travel planning, and packing. And while there's lots of data-fueled consensus out there about the "safest" places for women to go alone, some of the most beloved spots for a solo getaway are places that might not cross the radar of those big-city rankings, yet boast welcoming locals, walkable old towns, and vibrant food and art scenes. To help you start planning that first post-vaccine solo trip, we tapped six experienced solo travelers for their tips. Here, the places that stood out to them the most when they saw them firsthand—totally alone—and why some of them couldn't pick just one.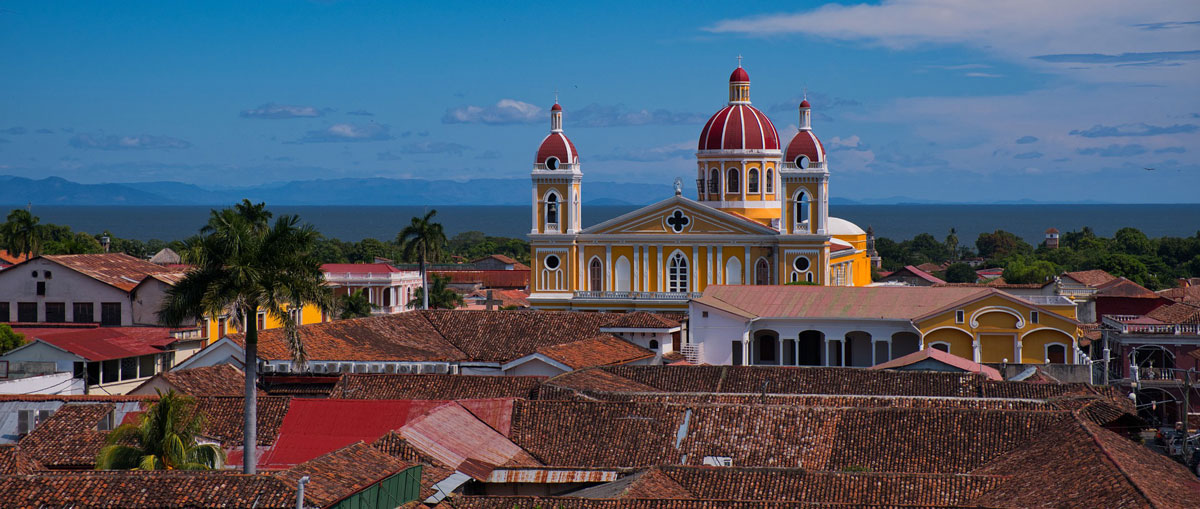 Granada, Nicaragua
Getting off the beaten path is no problem in Central America, especially alone and as a woman. "Nicaragua is an exciting under-the-radar option to consider traveling solo [to], and in the many times I have visited, I have met several other women traveling solo throughout the country," says Katalina Mayorga, co-founder of El Camino Travel and the Casa Violeta hotel in Granada. "Not only is it welcoming, but it has everything Costa Rica has plus more, and at a much more accessible price point. You have volcanos, expansive deserted beaches, colonial towns, rich culture, and stunning boutique hotel options galore."
If you're looking for a place to stay like a local, Mayorga recommends embedding yourself into "towns like Granada, Popoyo, and San Juan del Sur [that] have super tight-knit communities of foreigners from around the world. They are really welcoming to travelers passing through and openly bring you into their community with open arms. I have been invited to private dinners, jam sessions, secret surf spots, and artist studios."
Istanbul, Turkey
Celebrating your return to travel by plotting a far-flung getaway? Consider using a solo trip to cross a destination off of your bucket list, like Condé Nast Traveler contributing editor and Nomadness Travel Tribe founder Evita Robinson did in Turkey in 2019. "Turkey had lived on the top of my bucket list for years. Through photos, and stories of Nomadness Travel Tribe members who'd gone, I fell in love with images of the Blue Mosque and the fantasy-like nature of Cappadocia," says Robinson.
"As a solo trip, a gift to myself, I traveled to both Istanbul and Cappadocia in November of 2019. Istanbul immediately sucked me in. The people, the energy, the food, the favorable conversion rate! I was hooked. I appreciated the safety I felt; I found myself outside, on my own, at a packed restaurant, enjoying pizza, my journal, and wine at 1 a.m. It reminded me of New York. I'm always soothed by the call to prayer in countries, and hearing that in Istanbul only added to the calm I felt there. I walked everywhere I could. It's the city dweller in me. The flight to Cappadocia was quick, and to finally see its playfulness and wonder in real life was breathtaking. To date, Turkey has been one of my most fulfilling and safe solo trips I've ever taken in my life. I can't wait to go back and explore more."
Portland, Oregon
For outdoor adventure paired with big-city culture, follow rock climber and photographer Nikki Smith's advice for staying stateside. "My favorite cities to visit have great outdoor access close to, or in town. Portland, Oregon's Forest Park has over 80 miles of beautiful trail," says Smith, who contributes to rock-climbing guide books and has notched first ascents in over 150 locales. "Lush ferns line the pine needle-covered trails shaded by towering western hemlock and Douglas fir trees. After a long trail run, Portland's famous food scene allows even the most discerning eater to find a delicious après-meal. I love that I can be outdoors all day, and then throw on a dress and go to an amazing art exhibit, dinner, and drinks, all within a few-mile radius."
Red Rock Canyon, Las Vegas
Another outdoor locale that Smith recommends as a favorite place to visit solo? Las Vegas—but far from the city's Strip. "One of my favorite places to visit alone in the colder months is Las Vegas. Most people's idea of Vegas is the strip, but there is so much more," says Smith. "Red Rock Canyon National Conservation area is host to miles of amazing hiking, biking, and running trails, as well as a world-class rock climbing destination. I usually stay in the Summerlin area as it's closer to Red Rock and much quieter than downtown. You can find great restaurants, bars, and shopping in the area, but you are still a short drive to downtown if you want to go out for a wild night."
Amsterdam, Netherlands
Alone time in Europe almost needs no introduction, but if you're finding it hard to choose one place, take a page from the travel book of Martinique Lewis, a diversity in travel consultant and president of Black Travel Alliance. "I absolutely adore Amsterdam as a solo traveler. Even though you come alone, you leave with a whole community of people who welcomed you," says Lewis who is also a member of Traveler's advisory board. "Especially for Black travelers, there are so many different communities to tap into, like Amsterdam Black Women, which can be found on Facebook and on Instagram. They changed my trip 100-percent as I participated in their meetups. Jennifer Tosch's Black Heritage Tours also introduced me to other travelers and some ins and outs of the city. Amsterdam is super safe, and you can get anywhere with Google Maps. I highly recommend it."
Tel Aviv, Israel
Tel Aviv's beaches, food, and nightlife scenes are treasures of delight for any traveler, but Washington Post travel-advice writer Natalie Compton swears by the city for solo travel in particular. "There were about a million reasons Tel Aviv was one of my favorite places to travel solo. It's a city for people-watching, appreciating sunsets, all of the magic you're too busy to enjoy at home," says Compton. "The food, the ocean, the markets, the climate were all obvious selling points, but the hospitality was what made me feel less like a person visiting Tel Aviv and more like someone truly experiencing it. Everywhere I went—restaurants, nightclubs, surf shops—there was someone friendly ready to embrace a lone foreigner. If you're a person who loves sitting at a bar and seeing where life takes you, Tel Aviv is for you."
Cartagena, Colombia
If you're looking for a solo adventure abroad and speak some Spanish, Jessica Nabongo, the first Black woman to have visited every country in the world, says to consider colorful Cartagena. The cobblestoned port city tops her list of places she's visited solo (which includes dozens of locales), and without hiring a local guide. "Cartagena was an easy place to do solo, I didn't take public transit because it is small enough to walk everywhere on your own," says Nabongo. "It felt safe, and people are so nice. I'm someone who loves to talk to local people to get recommendations and in Cartagena, in particular, people were so open to helping me." Nabongo notes her Spanish is limited, and that visitors should feel open to practicing their language skills with the locals.
Luang Prabang, Laos
For a further-off solo escape, Nabongo also holds Luang Prabang, Laos among her top solo adventures without a guide. "It was very easy to navigate by riding a bike, and you get there and this spirit of zen just comes over you," Nabongo says. "My favorite thing about it was the alms giving [ceremonies], waking up at 5 a.m. when the people line the streets to give food to the monks, clad in their orange robes. It's so beautiful in so many ways, and just the way in which the community is supporting them and you can see it."