Globe Aware volunteers can visit some of these haunted sites on their volunteer vacation! Locations include South Africa, Rajasthan, Romania, Puerto Rico and Mexico!
---
43 Most Haunted Places in the World That Are Beautifully Scary
Even the faint of heart will find something to love.
BY CAITLIN MORTON
October 18, 2019
Nothing beats a good ghost story on Halloween, and our planet is chock full of 'em: UFO sightings in Transylvania, murders on luxury cruise ships, and spirits wandering the halls of British castles. No matter where you're traveling, you're sure to find some sort of haunted site, as well as a ghost tour to go along with it. But even if you're not a fan of paranormal activities, some of the spookiest locations are still worth your time, whether for their beautiful architecture, jaw-dropping locations, or fascinating histories. Here, the 43 most haunted places in the world you'll want to visit any day of the year—not just on October 31.
Hoia-Baciu Forest, Romania
From the moment a military technician captured a photograph of a "UFO" hovering over the forest in 1968, Hoia-Baciu has gained paranormal notoriety around the world, with some believing it to be a portal that causes visitors to disappear. Those who have passed through the forest without being zapped into another realm have reported rashes, nausea, and feelings of anxiety, according to The Independent. Known as the "Bermuda Triangle of Transylvania," the spooky curved trees that populate the forest just add to the eerie atmosphere.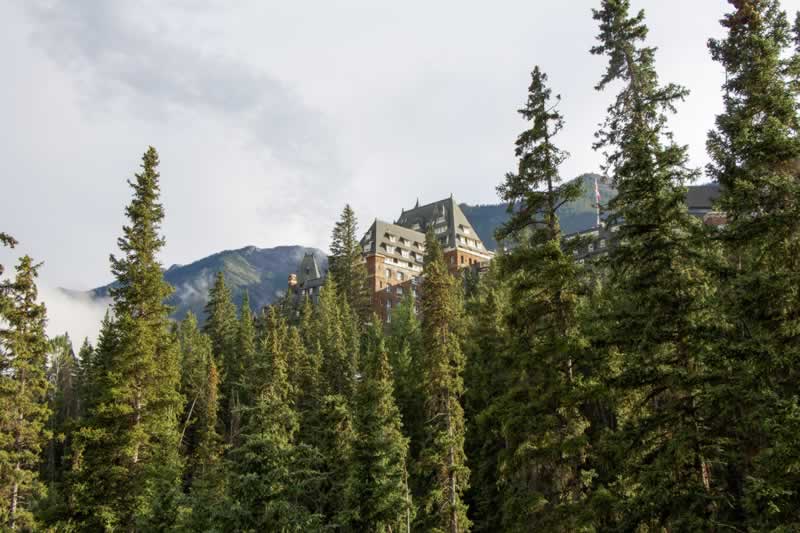 Fairmont Banff Springs Hotel, Canada
Built in 1888 to encourage tourism and sell train tickets, this chateau-style hotel sits pretty by the Rocky Mountains in Banff National Park. But it gets a tad more Gothic once you get inside—and we aren't talking about the architecture. The Calgary Herald has reported several resident ghosts, including a bride who supposedly fell down the stone staircase during her wedding. But there's a less tragic spirit, too: Sam the bellman, who worked at the hotel until 1975 and claimed he'd come back to haunt the joint. His spirit supposedly pulls shifts helping people with their bags before disappearing.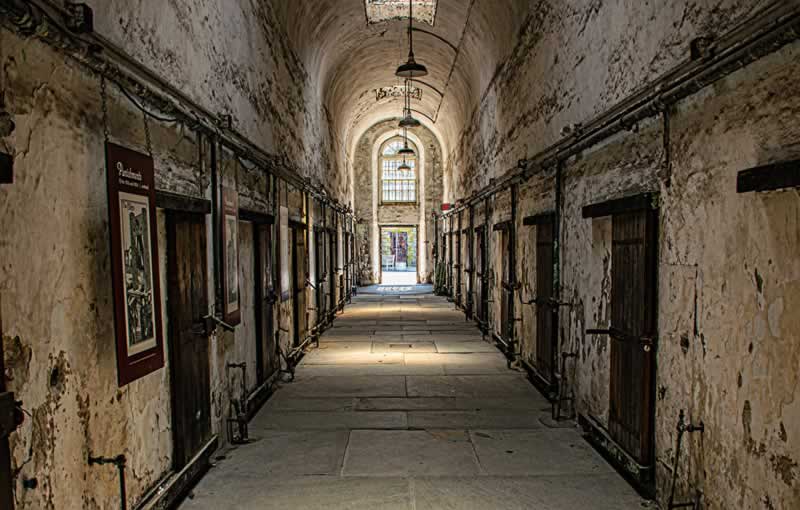 Eastern State Penitentiary, Philadelphia, PA
The castle-like Eastern State Penitentiary took solitary confinement to new levels when it was built in 1829. Prisoners lived alone, exercised alone, and ate alone; when an inmate left his cell, a guard would cover his head with a hood so he couldn't see or be seen. The prison had to abandon its solitary system due to overcrowding in 1913, although the forms of punishment did not get any less severe (chaining an inmate's tongue to his wrists is one example) before it closed for good in 1970. The site now welcomes thousands of visitors every year, both for its museum and Halloween celebrations. Reported paranormal happenings have included disembodied laughter, shadowy figures, and pacing footsteps.
Bhangarh Fort, India
Located just 100 miles southwest of Delhi, the lush ruins of Bhangarh Fort make for a curious juxtaposition against the desert landscape of Rajasthan. To this day, the oasis remains largely uninhabited due to an alleged curse cast by a disgruntled sorcerer after his advances were rebuffed by a local princess. If you prefer your trips to skew more spiritual than haunted, Traveler's former editor-at-large Hanya Yanagihara suggests saluting the sun during a session of pre-dusk yoga at the site.
Château de Brissac, Brissac-Quincé, France
One of the tallest castles in all of France, the seven-story Château de Brissac is perhaps best known as the home of "The Green Lady," aka the ghost of Charlotte of France. The chateau's website tells the legend of Charlotte, the illegitimate daughter of King Charles VII, who was murdered by her husband after he discovered her having an affair. Named for the color of her dress when she was killed, the Green Lady can be found roaming the chapel's tower room and moaning in the early hours of morning.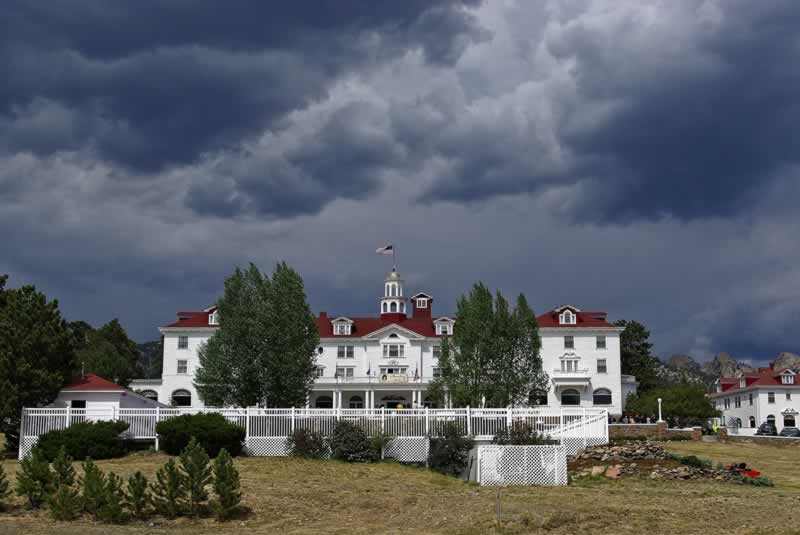 Stanley Hotel, Estes Park, CO
The Stanley Hotel's stately Georgian architecture and world-renowned whiskey bar have lured travelers to Estes Park since opening in 1909, but the hotel reached new levels of fame after inspiring Stephen King to create the The Shining's fictional Overlook Hotel. That eerie association aside, many other ghost sightings and some mysterious piano music have been connected to the hotel, and the Stanley Hotel leans into its reputation with nightly ghost tours and psychic consultations from the in-house Madame Vera.
La Recoleta Cemetery, Buenos Aires, Argentina
You don't have to be religious to be moved by La Recoleta Cemetery, which features thousands of statues, mausoleums, fairytale grottoes, and intricate tombstones, as well as the remains of Argentina's most iconic figure—Eva Perón. The stone walkways and labyrinth of mausoleums are as beautiful as they are eerie, and Recoleta has a couple haunted legends of its own. One of the most famous stories involves David Alleno, a former grave-digger and caretaker who worked at the cemetery for 30 years before killing himself. Today, people report hearing Alleno's keys jangling as his ghost walks the pathways at dawn.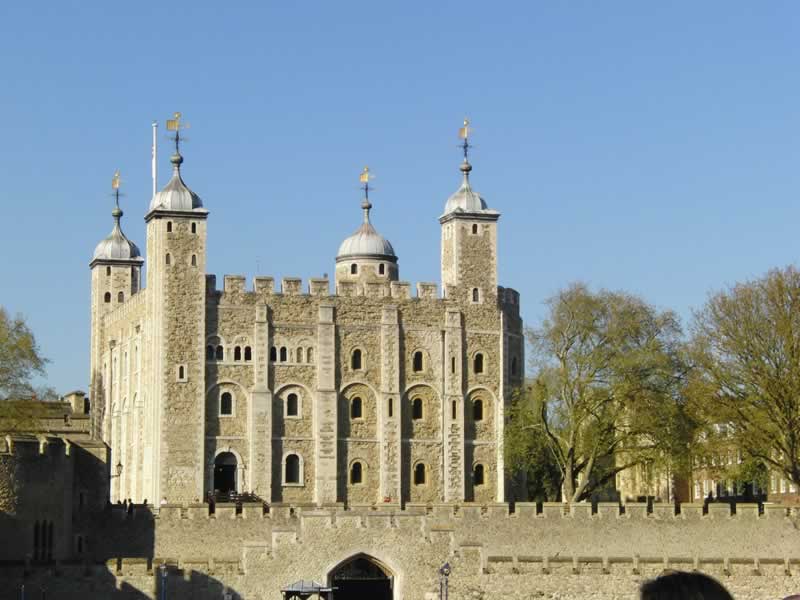 Tower of London, England
Built by William the Conqueror in 1066, this uncompromising fortress has had many functions. But it's best known for its bloody history as a prison and execution site—Henry VIII famously ordered the execution of two of his wives, Anne Boleyn and Catherine Howard, here. It's also where two young princes were imprisoned after the death of their father, King Edward IV; they disappeared shortly after in 1483, and their remains weren't found until 1647. Unsurprisingly, ghost stories of the Tower's victims—and ghost tours through Historic Royal Palaces—abound.
Jazirat Al Hamra, United Arab Emirates
You'll find the nearly-abandoned town of Jazirat Al Hamra about 14 miles southwest of Ras Al Khaimah in northern UAE—located between a huge mall and a huge waterpark. Established in the 14th century, the town grew into a thriving pearl fishing village in the 1830s before it was suddenly abandoned in 1968. The town now consists of dirt roads, 13 mosques, and more than 300 coral-and-mud houses—and, of course, some resident spirits. People claim that visitors are bound to experience strange noises and chilling apparitions, usually djinns (genies) in the form of animals.
St. Augustine Lighthouse, FL
The St. Augustine Lighthouse is visited by nearly 225,000 people annually, but it's just as well-known for its otherworldly visitors. Several tragic events that occurred at the now-historic site have contributed to the alleged paranormal activity. The ghost of a lighthouse keeper who fell to his death while painting the tower has been spotted watching over the grounds. And ever since the horrific death of three young girls, who drowned when the cart they were playing in broke and fell into the ocean, visitors have claimed to hear the sounds of children playing in and around the lighthouse.
Whaley House, San Diego, CA
Thomas Whaley built this family estate in 1857, on the former site of San Diego's first public gallows. Shortly after he moved in, he reported hearing the heavy footsteps of "Yankee" Jim Robinson, a drifter and thief who was hanged on the site four years before the house was built. Whaley's family history ended up being filled with tragic deaths and suicides—many of which occurred inside the home itself. According to the Whaley House Museum, some of the family members still haunt the landmark, often accompanied by cigar smoke and the smell of heavy perfume.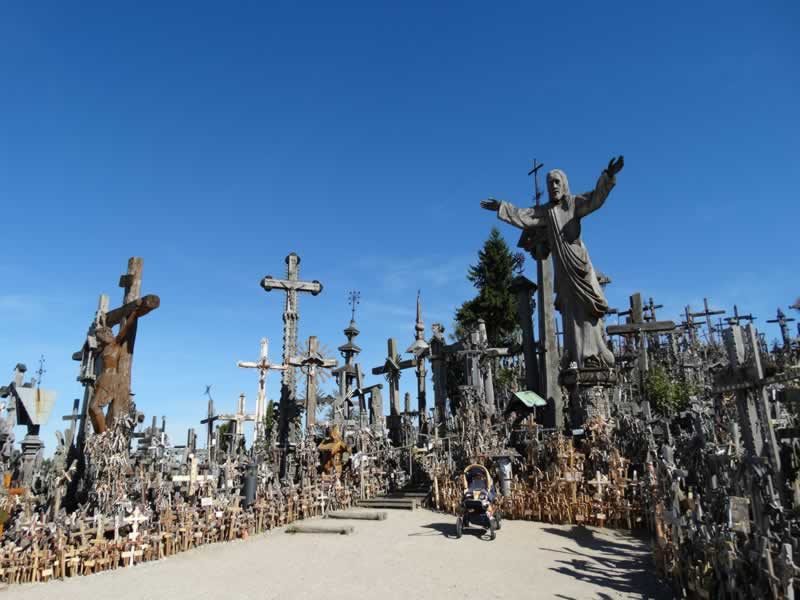 Hill of Crosses, Lithuania
People have been placing crosses at this spot in northern Lithuania since the 14th century, and for various reasons: Throughout the medieval period, the symbols expressed a desire for Lithuanian independence. Then, after a peasant uprising in 1831, people began adding to the site in remembrance of dead rebels, and the hill became a place of defiance once again during Soviet occupation from 1944 to 1991. While the hill and crosses were bulldozed by Soviets three times, locals kept rebuilding it—there are now more than 100,000 crosses crowded together. "As the wind blows across the fields of rural Siauliai County, ornate rosaries clink against metal and wooden crucifixes, filling the air with eerie chimes," Egle Gerulaityte wrote for the BBC in 2017.
Edinburgh Castle, Scotland
One of the biggest attractions in Scotland's capital city is also considered to be one of its most haunted. With sections dating back more than 900 years, the historic fortress's ancient dungeons have led visitors to the castle to report sightings of colonial prisoners from the American Revolutionary War, French prisoners from the Seven Years War—and even the ghost of a dog wandering the castle's dog cemetery.
Forsyth Park, Savannah, GA
The entire city of Savannah is pretty much one giant ghost story, due in large part to the mysterious tunnels that run below the town's streets. The underground structures play a major role in many of Savannah's most haunted locations, including Forsyth Park, the fountained green space you probably recognize from a postcard or two. According to Savannah Magazine, doctors at the adjacent Candler Hospital (now the Savannah Law School) performed autopsies in the tunnels below. Maria Pinheiro, a historian and spokesperson with Ghost City Tours, says these below-the-surface rumblings make Forsyth Park particularly ripe for sightings of shadowy, now-you-see-them-now-you-don't figures.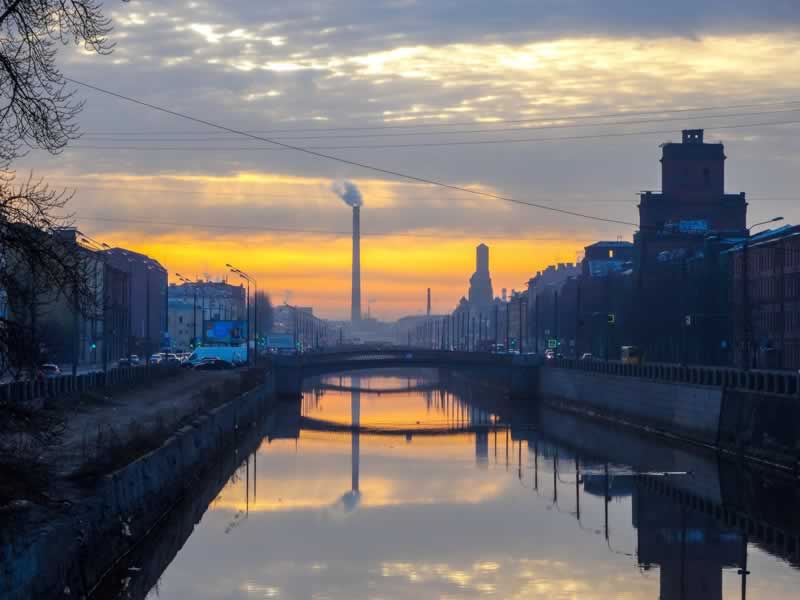 Obvodny Canal, St. Petersburg, Russia
Running five miles through St. Petersburg, the Obvodny Canal goes by another, much more sinister name: Suicide Canal. Ever since the artificial canal started being built in the late 18th century, strange events have surrounded the site, including construction workers complaining of headaches, sudden outbursts of violence, and, of course, suicides. While most of the suicide attempts have been successful, people who have been saved claim they don't know why they jumped in the water, or an invisible force pulled them off the banks. Some claim the force comes from restless souls lurking beneath the water, even claiming to see a woman in white floating just beneath the surface before suddenly disappearing. So if you ever find yourself in St. Petersburg on a gloomy day, maybe stick to the sidewalks.
Oriental Theater (formerly Iroquois Theater), Chicago
Ghosts are said to haunt the Oriental Theater (formerly the Iroquois Theater) in the Loop area of downtown Chicago, where almost 600 people perished after a fire famously broke out in 1903, writes Atlas Obscura. Even though the theater was completely rebuilt and rebranded, spirits of the dead remained: apparitions have been seen in "Death Alley," the street behind the theater where bodies were stacked after the disaster (and a common stop on many a Chicago ghost tour).
Raynham Hall, Norfolk, England
Built around 1620, the 7000-acre Raynham Hall is one of the most impressive estates in Norfolk. As is the case with most historic buildings, the home also has its fair share of legends and ghost stories, most notably ones surrounding Lady Dorothy ("Dolly") Townshend. Dolly was the wife of Viscount "Turnip" Townshend, and the couple lived in Raynham Hall during the 18th century, during which time Dolly was reportedly locked up in the house by her husband. Lady Dorothy's ghost is now said to haunt the estate, as "proven" by a photo taken of her in the 1930s. "No one has proved the picture taken of her is a fake," Lord Charles Raynham (the home's current resident) told the BBC.
Höfði House, Reykjavik, Iceland
Overlooking Reykjavik's waterfront, the Höfði House is most famous for hosting a meeting between Ronald Regan and Michael Gorbachev in 1986, a historic moment during the end of the Cold War. The house has housed many other famous figures over the years, including Queen Elizabeth, Winston Churchill, and Marlene Dietrich, plus a handful of British ambassadors. It was one such ambassador who first experienced "The White Lady," a ghost who many believe to be a victim of suicide. The phantom lady apparently caused so much panic and distress, the ambassador persuaded the British Foreign office to sell the house immediately.
The Forbidden City, Beijing, China
No trip to Beijing is complete without a visit to the Forbidden City, China's former imperial palace that now serves as a museum. But you might not know that the popular tourist destination has quite the reputation among supernatural enthusiasts. During its 600-year tenure as a palace, the complex had its fair share of murders, whether from jealous concubines poisoning one another or executions performed at the emperor's behest. Needless to say, there have been many reports of strange phenomena since the palace opened to the public in the 1940s. The most common story involves a woman dressed in white (as most good ghost stories do) strolling around the grounds and sobbing.
RMS Queen Mary, Long Beach, CA
Aside from a brief stint as a war ship in World War II, the RMS Queen Mary served as a luxury ocean liner from 1936 to 1967. During that time, it was the site of at least one murder, a sailor being crushed to death by a door in the engine room, and children drowning in the pool. The city of Long Beach purchased the ship in 1967 and turned it into a hotel, and it still serves that purpose today—although the reported ghosts of the deceased passengers get to stay for free. (For an extra dose of spine-tingling experiences, try and visit the ship's engine room, considered by many to be a "hotbed" of paranormal activity.)
Leap Castle, Coolderry, Ireland
Built some time between the 13th and late 15th century, this Irish castle has seen more gruesome deaths than a Game of Thrones wedding. As legend has it, during a struggle for power within the O'Carroll clan (which had a fondness for poisoning dinner guests), one member plunged a sword into his brother—a priest—as he was holding mass in the castle's chapel. The room is now called "The Bloody Chapel," and the priest is said to haunt the church at night. The horror doesn't end there—at least not according to the macabre history outlined on Leap Castle's website. During renovations in the early 1900s, workmen found a secret dungeon in the Bloody Chapel with so many human skeletons, they filled three cartloads when hauled away. The dungeon was designed so that prisoners would fall through a trap door, have their lungs punctured by wooden spikes on the ground, and die a slow, horrific death within earshot of the sinister clan members above.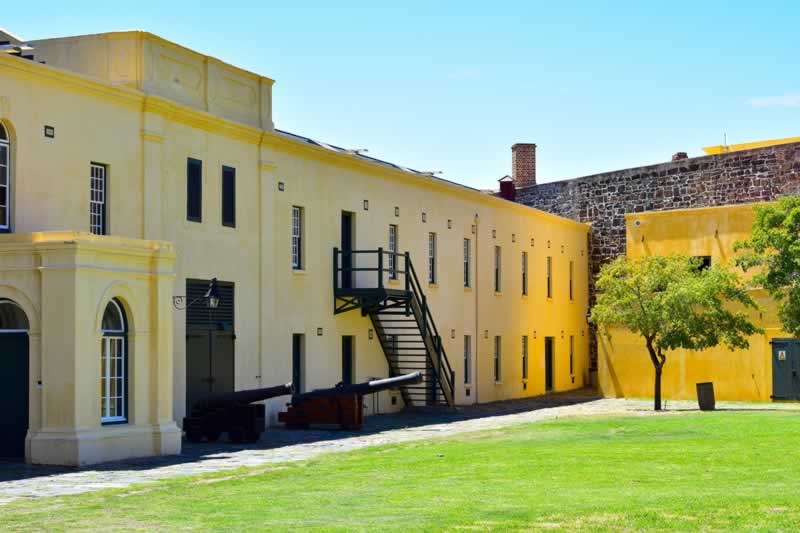 Castle of Good Hope, Cape Town, South Africa
A sprawling building near the shoreline of Table Bay, the Castle of Good Hope dates back to 1666, making it the oldest colonial building in South Africa. Originally built by the Dutch East India Company as a replenishment station for ships, the site also served as a military fortress and prison during the Second Boer War from 1899 to 1902. Today, you can tour the fort's many rooms and buildings (including the gruesome torture chamber) but you might want to prepare yourself for a ghost sighting. Back in the 1700s, Governor Pieter van Noodt condemned several men to be hanged to death; one of the men cursed the governor from the gallows, and van Noodt died of a heart attack later that day. According to the Castle of Good Hope's official website, his ghost has been haunting the battlements ever since.
Crumlin Road Gaol, Belfast, Northern Ireland
Crumlin Road Gaol, a Victorian-era prison in Belfast, is said to be one of the most haunted sites in Ireland. Often referred to Europe's Alcatraz, the jail contained some 25,000 inmates (men, women, and children) during its 150 years of operation, publicly hung many prisoners, and buried their bodies within the prison walls. The institution officially shut its doors in 1996, but the ghosts of deceased inmates are said to still roam the iron walkways today. If this sounds like the sort of place you want to spend time in, you're in luck—Crumlin Road Gaol offers daily tours, live concerts, and reasonably priced meals at its in-house (in-prison?) restaurant. It even serves as a venue for conferences and....weddings.
Poveglia Island, Venice, Italy
Less than half a mile from the canals of Venice, Poveglia Island has served as a quarantine zone for bubonic plague victims, storage space for Napoleon's weapons, and the site of an early 20th-century insane asylum. The asylum played host to horrific medical experiments, reports The Travel Channel, and finally closed for good when a doctor threw himself off the institution's bell tower. Locals still claim to hear echoing chimes from the island—even though the bell was removed decades ago. It's illegal to visit Poveglia today, but you can see the island and decaying hospital safely from the beaches of nearby Lido.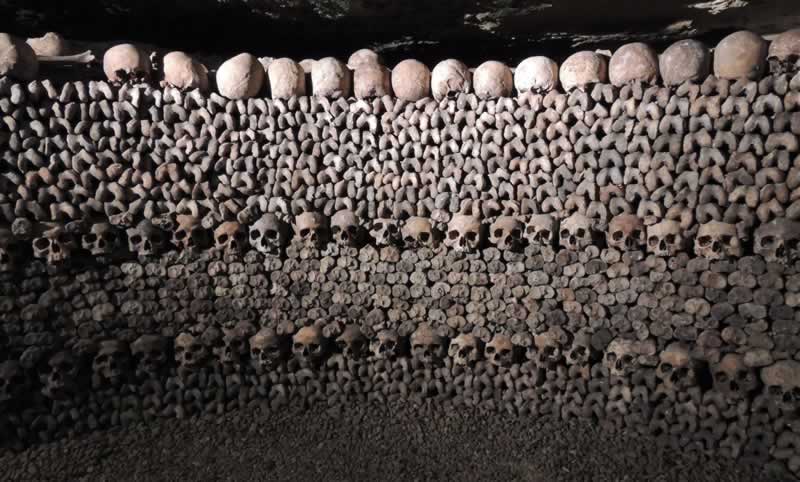 Catacombs of Paris, France
After a prolonged bout of heavy rains flooded and unearthed the overcrowded Les Innocents cemetery in the spring of 1780, a wave of rotting corpses tumbled onto the property next door. According to Smithsonian Mag, this horrifying event started a 12-year project to move bodies from Paris's cemeteries down into the city's former limestone quarries, eventually packing the underground tunnels with some 6 million bodies. Today, about a mile of the subterranean labyrinth is open to visitors, who can take tours of the tunnels and artfully arranged displays of bones.
Larnach Castle, New Zealand
Larnach was built between 1871 and 1887 to serve as the residence of William Larnach, a prominent local politician. Most notable is a 3,000-square-foot ballroom, which Larnach had built as a 21st birthday present for his favorite daughter Kate, who later died of typhoid at age 26, and is said to still haunt the ballroom. Don't chalk those taps on your shoulder and whispers in your ear as all up to imagination: The building has been visited by paranormal investigators and featured on Ghost Hunters International.
Ancient Ram Inn, Wotton-under-Edge, England
Built in 1145, England's Ancient Ram Inn has played many roles over the centuries: a former priest's residence, housing for masons and slaves, an inn, and a public house. It also happens to be one seriously haunted spot. Architectural Digest writes: "With ghostly children, a high priestess, and even an incubus (Google it, but don't say you weren't warned) wandering the halls, guests have reportedly leapt from the windows in a frenzy to escape."
Xunantunich, Belize
Deep in the jungles of Belize, less than a mile from the Guatemala border, Xunantunich is an ancient Mayan ruin that has sat abandoned for the past millennium. An earthquake caused the original civilization to crumble, but the complex was re-discovered by explorers in the 1890s. Since then, Xunantunich has served as an important archaeological site, under-the-radar tourist attraction, and hotbed of ghostly sightings. The ancient city is said to be haunted by one female ghost—a black-haired lady with red, glowing eyes. She was first spotted by one of the earliest research teams in 1893, and has been spotted near El Castillo (the tallest building in the complex) many times since then. No one knows exactly who the so-called "Stone Lady" is, but many speculate that she may have been a human sacrifice whose death ritual was performed on the top of the El Castillo pyramid.
Eden Brown Estate, Nevis
Often overshadowed by neighboring St. Kitts, Nevis has just as much to offer travelers—in fact, it offers even more for the more morbidly-inclined. Case in point: The Eden Brown Estate, a former plantation that now lies in ruins. The estate was originally owned by a wealthy businessman who intended to give the property to his daughter as a wedding present. However, a mysterious duel between the groom and the best man left both men dead the day of the wedding, and the the daughter remained unmarried and alone for the rest of her life. Today, many visitors say they have seen the reclusive woman's spirit roaming throughout the estate.
Ponte Sisto, Rome, Italy
In a city as ancient as Rome, practically every brick in every building has a story that goes along with it. In some cases, those stories are downright creepy. One such story surrounds the Ponte Sisto, a romantic bridge spanning the Tiber near Rome's city center. Local legend has it that if you visit the bridge at sunrise, you'll see a charging carriage helmed by the ghost of Olimpia Maidalchini, Pope Innocent X's advisor (hence her nickname, the "female pope"). The spectral occurrence is said to be Olimpia's attempt to flee the city with the church's gold, just as she allegedly did after Pope Innocent X's death in 1655. While the Ponte Sisto is closed to pedestrian traffic, you can visit the bridge as part of Dark Rome's daily "Ghosts, Mysteries and Legends of Rome Night Walking Tour."
The Langham Hotel, London, England
The spirits are so active at this 153-year-old hotel, they drove out several English national team cricket players back in 2014, who cited sudden heat and lights, and an unexplained presence during the night. Ghosts have long been associated with the tony hotel, says Visit Britain, and it's thought to house elite spirits such as former resident Emperor Louis Napoleon III and a German prince who jumped to his death from his upper-level window.
Isla de las Munecas (Island of the Dolls), Mexico
Despite its status as a UNESCO World Heritage site for its well-preserved example of Aztec life, the neighborhood of Xochimilco has reached a certain amount of internet fame for its Island of the Dolls. Hidden among the region's many canals, the site is famous for the hundreds of dolls—and doll parts—hanging from trees and scattered among the grass. While it might look more like a horror movie set, the chinampa (akin to an artificial island) used to be the residence of a now-deceased man named Julian Santa Barrera. After finding a dead girl's body in a nearby canal, Barrera collected and displayed the toys in the hopes of warding off evil spirits, reports National Geographic. Daring souls can hire their own boat and view the island safely from the water.
Borgvattnet Haunted Vicarage, Ragunda, Sweden
Originally built in 1876, weird happenings have been noted in this parsonage since the 1960s. The gray wooden structure now serves as a bed and breakfast in a rural area with snowmobiling, fishing, and...not a lot else. Guests at Borgvattnet have claimed to hear footsteps, music, and the sound of three crying ladies coming from the inn—and the proprietors will reward you with a certificate that says you stayed through the night.
Teatro Tapia, San Juan, Puerto Rico
Puerto Rico is known for its natural beauty and rich history, the latter of which lends itself quite well to eerie experiences. One of the most famous spooky sites on the island is Teatro Tapia, a San Juan theater known for its plays, concerts, and paranormal activity. According to urban myth, an actress who fell to her death while performing at the theater returned to haunt the venue. Some visitors claim to have seen her ghost wandering the theater grounds, with others report mysterious footsteps, doors swinging open and shut, and an unseen choir of voices coming from the stage. Teatro Tapia still holds frequent ballet and music performances, so purchase a ticket to see some local acts—and maybe a local ghost while you're at it.
Lawang Sewu, Semarang, Indonesia
Built in the early 20th century by Dutch colonialists, Lawang Sewu (or "Thousand Doors") served as head office for the Dutch East Indian Railway Company before the Japanese turned it into a detention camp during WWII. During the war, many harsh interrogations, tortures, and violent executions occurred within the building's walls—all of which contribute to its current status as one of Indonesia's most haunted sites, says the country's Ministry of Tourism. Tourists are free to visit the abandoned site today, perhaps to confirm whether the many circulating ghost stories tied to Lawang Sewu have any truth to them.
Aokigahara Forest, Japan
This seemingly serene forest at the foot of Mount Fuji has a tormented past. Colloquially known as "Suicide Forest," Aokigahara has been the site of 500 reported suicides since the 1950s, reports the BBC. Some blame this trend on the forest's association with demons in Japanese mythology. Others point towards large underground deposits of iron, which interfere with compasses and make it easy to get lost. In fact, many hikers will mark their path with tape or string to make it easier to find their way back out again.
Port Arthur, Tasmania
Port Arthur began as a penal colony in 1833, housing British convicts until it was abandoned in 1877. During those decades, the island—touted as "inescapable"—focused on correcting the inmates' morality, using methods like solitary confinement and mandatory church services. The settlement has been a destination for curious tourists since the time of its abandonment, and was officially preserved as a historical site in 1979. Today, you'll find what The New York Times describes as "an impressive apparatus for remembering, complete with a ferry, interactive exhibit for children and well-trained guides." Ghost tours are available of the ruins and open-air museum, as well as the nearby "Isle of the Dead," an island housing the bodies of deceased convicts in unmarked graves.
Taj Mahal Palace, Mumbai, India
Dubbed one of the best hotels in India by our readers, the five-star Taj Mahal Palace is located right in the heart of Mumbai. Yet along with amazing views and interiors fit for a royal, one of the hotel's more macabre claims to fame is its aura of mystery. According to legend, the building's architect jumped to his death from the fifth floor after discovering the hotel was facing the wrong direction. His spirit now roams the halls, running into guests in the hallways and walking around the roof.
Dock Street Theatre, Charleston, SC
Renovated in 2010, Charleston's Dock Street Theatre is a beautiful downtown venue, hosting plays and concerts throughout the year. But the site has quite a tumultuous history, according to Charleston's official city website. Aside from a fire burning town the original theater in 1740, the building suffered damage from an earthquake in 1886 and fell into abandon during the early 20th century. To make matters even more spooky, a prostitute named Nettie Dickerson was supposedly struck by lightning while standing on the balcony in the mid-1800s, and her ghost is said to glide along the theater's second floor.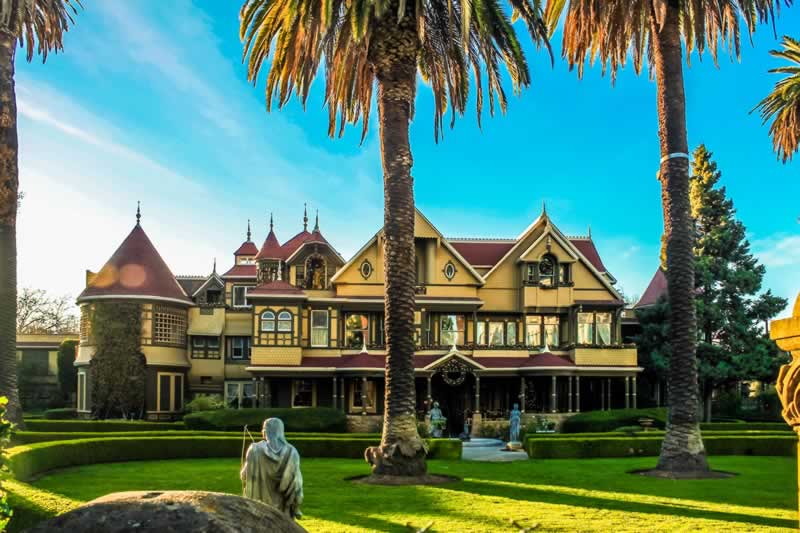 Winchester Mystery House, San Jose, CA
Following the death of her husband, rifle magnate William Wirt Winchester, Sarah Winchester commissioned a Victorian labyrinth designed to repel the vengeful spirits of the lives taken by her husband's guns. The sprawling Queen Anne–style mansion—comprising four stories, 160 rooms, 10,000 window panes, and 47 stairways—is appointed with curious elements, like staircases leading directly into the ceiling and windows opening onto secret passages. This year, the Winchester House is hosting a line-up of activities for Halloween, including a themed dinner, trick-or-treat trail for kids, and "Unhinged," which is touted as an "immersive horror experience" through November 2. Check out the website for more details.
Canberra, Australia
Much like Savannah, the entire city of Canberra seems to be a paranormal hotspot—especially when it comes to the buildings in the Parliamentary Triangle. Hotel Kurrajong, a four-star hotel with some serious A-list ghosts roaming its halls, is thought to house the ghost of former Prime Minister Ben Chifley, who died on the night of June 13, 1951 after suffering a heart attack in room 214. His gray-suited ghost is known to appear in that same room from time to time, writes The Canberra Times. And then there's the Old Parliament House itself, where security guards and cleaning staff have reported hearing their names whispered in the night.
First World Hotel, Pahang, Malaysia
With 7,351 rooms, Malaysia's First World Hotel makes sure it has something for everyone on its massive guest list. There's an indoor theme park for thrill seekers, a tropical rainforest for nature lovers, and even a touch of paranormal activity for ghost hunters. Most legends involve wandering ghosts of high-rolling gamblers who committed suicide after losing everything at the in-house casinos. After staying in the hotel, one TripAdvisor user gave a firsthand account of his spooky stay, warning of "unseen forces pressing onto your body while you're sleeping."
Carl Beck House, Ontario, Canada
Built by lumber magnate Carl Beck in the late 1800s, this house in Penetanguishene is known as one of the most haunted houses in Ontario. According to legend, Beck and his family lived in the house together; after his wife passed away, the eldest daughter, Mary, was put in charge of raising the younger children. Years later, when Carl died, he inexplicably left Mary $1 in his will. Today, an angry, female ghost—presumably Mary—is said to appear in the upstairs windows. (You'd probably haunt the house too if your dad gave you a $1 inheritance. #TeamMary.) For any travelers curious in Victorian architecture with a side of paranormality, you can actually rent the Carl Beck House on Airbnb, starting at $95 per night.