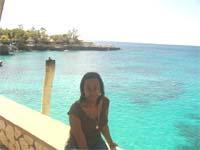 Mel
I have been working with a local Environmental Agency for over two years, and the experience has me well prepared to work with
and lead Globe Aware Volunteers in Jamaica. Through the organization we have been working with community members towards environmental
conservation and community development. We have worked with quite a few US Peace Corps Volunteers. My experience working alongside American
volunteers has given me an understanding of the challenges Americans may face volunteering in rural Jamaica and has provided me with great
hands-on experience for working with Globe Aware Volunteers serving in Jamaica.

I'm twenty-something, born and raised in Joe Hut, Trelawny, a 20 minute drive from the community Jamaica's Globe Aware Volunteers will be
working in. I am also continuing higher education toward a future career in education.