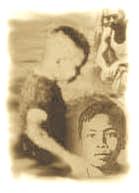 On April 24th, 1949, a child was born in an old hut ,to his mother, Mrs. Sampao Chanpetch, a poor woman with a great love for her son. This poor child became the man who now supports and encourage many underprivileged people with all of his hard work. He did not try to escape his life of poverty and hardship. Instead of seeking out his own prosperity, he has given consistent and equal opportunity to those of Thai society who need help and kindness.
Honor, fame and national recognition have never deterred his original attitude and energy from the way of Buddhism. That once poor boy is " Pra Payom Kallayano."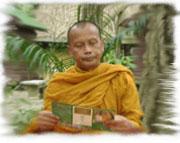 The poverty of his family neither damaged nor kept Pra Payom from his studies. Consequently, he was given the highest academic certificate in Buddhism, 1st class Dharmist, which led him to be a qualified preacher in society. Honorary awards from various institutes throughout Thailand, have given further proof of society's acceptance of him as one of the country's most influential and positive Buddhist monks. He has been described as being "The Monk who has lots of work but little time". Furthermore, because of his hard work and dedication, he has been publicly recognized as "The Monk who cares for the world". He lives humbly and does not judge others who are not Buddhist.