YOUR JUNE GOOD NEWS!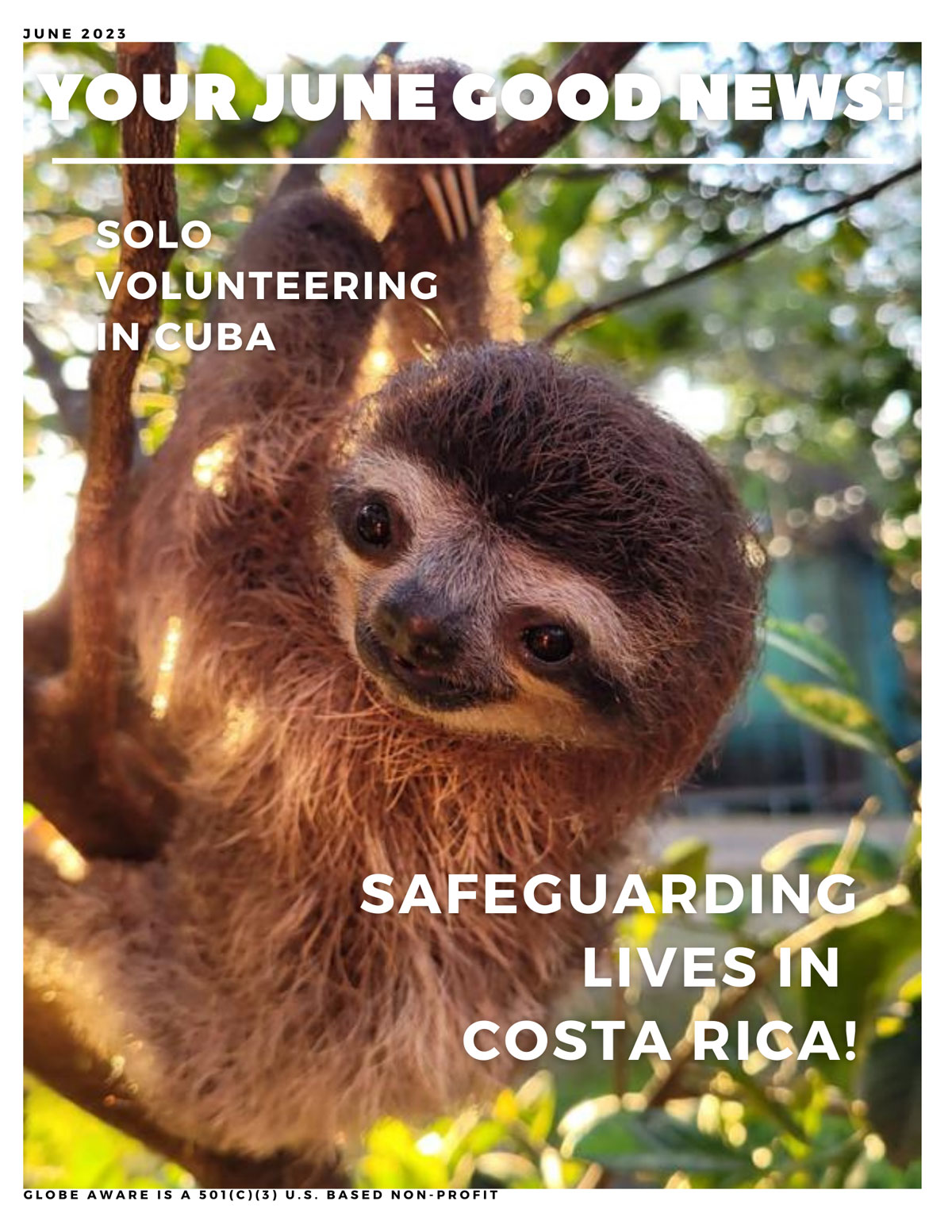 SAFEGUARDING LIVES IN COSTA RICA
Costa Rica is known for its incredible biodiversity, with numerous unique and endangered species. Animal rescues actively work to protect and preserve these species by rescuing and rehabilitating injured, orphaned, or displaced animals. They provide homes to animals that can no longer thrive in the wild due to medical conditions or loss of survival skills.
The animal rescue Globe Aware works with plays a crucial role in the conservation of Costa Rican biodiversity, wildlife rehabilitation, education, and providing emergency rescue.
This volunteer vacation aims to rehabilitate many different types of tropical species like sloths, howler monkeys, spider monkeys, toucans, marmosets, and more that have been injured or illegally held captive. Here these animals receive the care they need to survive on their own in the wild.
Volunteers live on-site and contribute to various essential tasks at the animal sanctuary. They assist in the daily preparations of food for all the animals, participate in feeding sessions, and bathe the animals, particularly those who are sick or injured and require special attention. Volunteers may also engage in socializing activities with animals that cannot be reintroduced into the wild. Additionally, they lend a hand with other crucial responsibilities, such as cleaning and maintenance, ensuring a safe and hygienic environment for the animals.
The animal rescue relies solely on generous contributions of time and donations from volunteers. Every moment spent by these volunteers is deeply valued and greatly needed. If you would like to make a difference and help safeguard the lives of these vulnerable creatures, click below to get involved today!
LEARN MORE ABOUT GLOBE AWARE'S COSTA RICA PROGRAM
SAFEGUARDING LIVES IN COSTA RICA CONT.
Our last issue covered the amazing conservation work our volunteers participate in at the Sea Turtle Rescue in Costa Rica. This past month, our dedicated volunteers, Michael, Matt, Kimberly, and Jeanette, ventured to the scenic beaches for a week.
Their primary volunteering work included actively engaging in beach clean-up efforts, contributing to reforestation initiatives, and caring for the hatcheries, which included walks on the beach at night, to make sure turtles were not caught by predators.
Alongside these important tasks, they also had the opportunity to explore and appreciate their newfound surroundings.
LEARN MORE ABOUT GLOBE AWARE'S COSTA RICA SEA TURTLE RESCUE PROGRAM
YOU ARE READY FOR PURA VIDA!
Episode 6 of our podcast is out now!
"Preparing To Go To Cost Rica!"
Are you headed to paradise at our Orosi Valley, Costa Rica program?! You want to know what to pack, what the projects will be like, what to expect with the weather, leisure activities, and more! Find out on the latest Globe Aware podcast episode!
Making A Difference All Year Round!
Did you know that Globe Aware contributes up to $10,000 annually to support Hagar, an international organization with a profound commitment to aiding the recovery of women and children who have endured unimaginable abuses. Through their substantial donation, in thanks to our volunteers, Globe Aware plays a crucial role in enabling Hagar to continue their vital work, reaching out to survivors in need across various regions.
LEARN MORE ABOUT GLOBE AWARE'S COSTA RICA OROSI VALLEY PROGRAM
EMBRACING THE CUBAN SPIRIT WHILE MAKING A DIFFERENCE!
Sandra had an enriching experience during her week of independent volunteering, savoring heartwarming moments one by one in the vibrant setting of Cuba! The Globe Aware program in Cuba distinguishes itself from our other initiatives by placing a greater emphasis on cultural awareness and supporting the Cuban people. While engaging in meaningful work projects throughout the week, we allocate more time than usual to fostering cultural understanding as part of our mission.
Sandra dedicated her week to the "Las Guásimas" district, situated on the outskirts of Havana within the municipality of El Parrot. In this area, volunteers actively participate in agricultural activities on a farm, aiming to assist with the fieldwork. Sandra contributed by weeding, organizing, and providing support to the local farming community.